Help us #HonorKC beyond Anniversary Week!
Read more to find three different ways to engage with us on social media and earn free admission Dec. 3, 2016 - Feb. 10, 2017.
---
In December 2006, the newly built National World War I Museum opened to international acclaim. Ten years and more than 2 million visitors later, the Museum celebrates the 10-year anniversary. One of the world's great museums, this Kansas City-area funded and national icon is saying "Thank you."
Between Tuesday, Dec. 6 – Sunday, Dec. 11 the Museum offers free admission to the general public and an array of activities. Anniversary Week is supported by:
Premier Sponsors
Image

Image

Partner Sponsors
Henderson Engineers, Inc.
JE Dunn Construction
State Street Corporation
---
Anniversary Week Activities
Tuesday, Dec. 6 – Sunday, Dec. 11
Daily: Free Admission to the Public
Daily: Complimentary "Top 10" Self-Guided Tour – the Museum curatorial team provides a self-guided tour of the top 10 acquisitions in the last 10 years to commemorate the 10-year anniversary of the Museum expansion.
2 p.m., Daily: Complimentary Public Tour – explore the Main Gallery with one of our knowledgeable Museum Guides on a tour. Tour space is available on a first-come, first-serve basis.
3:30-4:30 p.m., Daily: Hands-on History – history is brought to life in this family-friendly program in which kids of all ages are invited to handle Great War artifacts. (Additional Hands-on History programs are available 11 a.m.-12 p.m. Saturday and Sunday.)
6:30 p.m., Tuesday: "In War and Peace – Perspectives on Conflict Resolution" – join us for a panel conversation featuring Mezzo-Soprano Joyce DiDonato as she discusses her project, "In War and Peace – Harmony Through Music" with panelists Alvin Brooks, Joanne Katz and Dr. Matthew Naylor. Presented in partnership with the Harriman-Jewell Series.
6:30 p.m., Wednesday: "75th Anniversary of Pearl Harbor: Conversation and Commemoration" SOLD OUT – Doolittle Raider veteran, Lt. Col. Dick Cole, USAF (Ret.), and Dr. Dennis R. Okerstrom reflect on the impact of Pearl Harbor and the present day meaning of WWII. Presented in partnership with Park University, The National Archives at Kansas City, The Harry S. Truman Library and Museum and The Truman Center at UMKC.
Lt. Col. Cole will also participate in an event at Graham Tyler Memorial Chapel at Park University at 3 p.m. on Tuesday, Dec. 6. The event is free and open to the public (no RSVP required). For questions, contact Park University's Office of External Relations at 816.584.6209.
5-8 p.m., Friday/Saturday: Liberty Memorial Tower – the Museum offers the rare opportunity to ascend to the top of the Liberty Memorial Tower in the evening for breathtaking 360 degree panoramic views of downtown Kansas City (weather permitting). Guests are encouraged to wear weather-appropriate clothing and to note that there are 45 steps to take in order to reach the top.
1 p.m., Saturday: "Family Friendly: War Game" – the Museum screens the award-winning animated short film about the unlikely Christmas Truce on the Western Front.
All Day, Sunday: Day in the Life – the Living History Volunteer Corps will be on site to share stories of the Great War era and make history come to life! The Living History volunteers will focus on how Christmas was celebrated by soldiers during the war.
---
#HONORKC - Social Media Campaign
10 Weeks of Free Admission to Celebrate Our 10th Anniversary
We're celebrating 10 years of the National World War I Museum and Memorial with 10 weeks of free admission. It's all to thank you for your support. Our roots as a memorial to the men and women who served in the Great War go back to 1919, when Kansas City raised the initial funds for the Liberty Memorial.
But we didn't stop there. Ten years ago, the doors to the National World War I Museum and Memorial opened. Since then we've grown into one of the world's great museums. To thank you for your continued support, we invite you to experience the museum for free.
Read on to find three different ways to engage with us on social media and earn free admission Dec. 3, 2016 - Feb. 10, 2017. Show your social media efforts at ticketing to get in free during those 10 weeks. (You can take a screenshot or show your social media page.) You can also gain free admission and join in the events for Anniversary Week from Dec. 6-11, 2016.
1. Profile Pic
Set your Facebook profile picture to the #HonorKC frame.
Breaking It Down
To add the frame to your profile picture, log in to your account and go to the profile picture frame feature at facebook.com/profilepicframes. Then click on the menu to the left of your profile picture, and select the National World War I Museum and Memorial frame from the "Causes" section of the drop down menu. Click "use as profile picture" to save. If you are unable to add a frame to your profile picture from the Facebook mobile app, make sure you're using the latest app version.
Image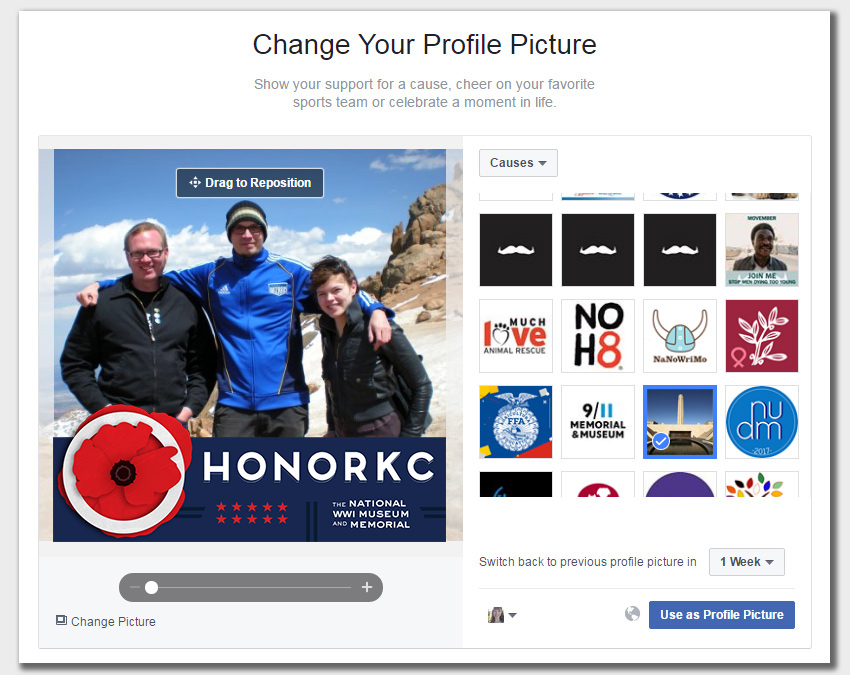 2. Snapchat Filter
Use the #HonorKC Snapchat geofilter.
Breaking It Down
Apply either the #HonorKC geofilter (limited-time availability) or the National WWI Museum & Memorial geofilter that shows up in Snapchat when you are near the Memorial grounds. Save the snap to your memories so that you can show it at the admission desk.
Image
3. Share on Social Media
Make a "10" and share it on social media using #HonorKC.
Breaking It Down
Make a "10"—using the Liberty Memorial Tower as the "1" and the poppy flier, print ad, encircled arms, a fist, etc. as the "0"—and take a picture. Then post your pic to Twitter, Facebook, Instagram, or Snapchat using #HonorKC.
Image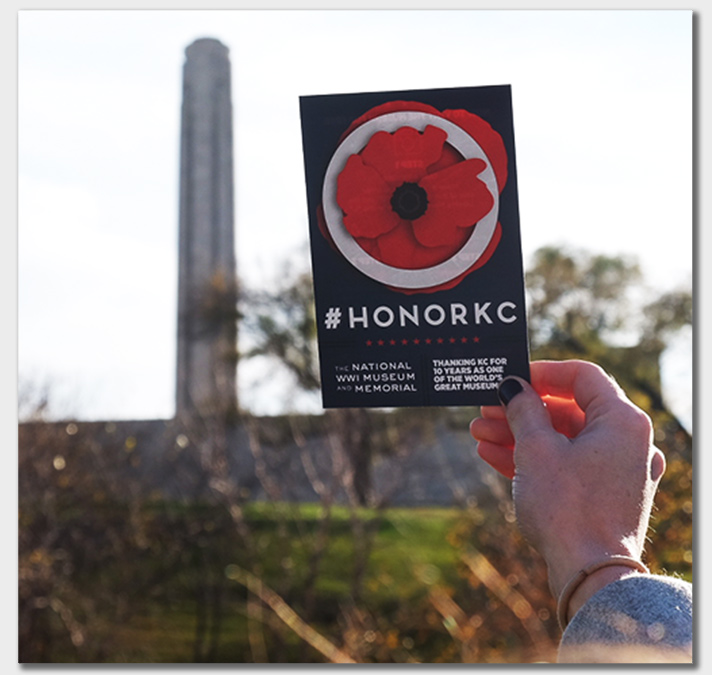 Fine print: Offer for free admission offer is valid Saturday, Dec. 3, 2016 through Friday, Feb.10, 2017. Limit one free ticket per person during promotional period.