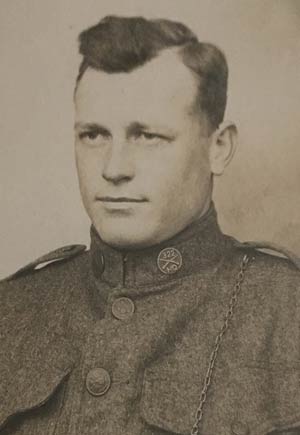 The National WWI Museum and Memorial's mission is to remember, interpret and understand the Great War and its enduring impact. For many, visiting the Museum and Memorial is like taking a step back in time to remember and honor loved ones, especially those who served in WWI.
When Mark Henderson, Chairman of the Museum and Memorial's Board of Trustees and Executive Vice President/Chief Operating Officer of Lockton Companies, learned that a client in North Carolina was planning just such a visit, he offered to help make the experience truly memorable.
William F. Howard served in the American Expeditionary Forces during World War I. His first day in battle also happened to be his 22nd birthday. He was in combat on the Western Front, including on the Somme and in the Meuse-Argonne, the American Army's last major offensive of the war. He was awarded the Bronze Star and Victory Medal, and returned home to North Carolina after his discharge at Fort Lee, Va., on June 25, 1919.
Roughly one hundred years later, on March 2, 2019, Howard's grandson, William F. Howard III, visited the Museum and Memorial with his sons, Ross and Jack. The three Howard men consider themselves history buffs, and have a tradition of making annual visits to museums, battlefields and historical sites throughout the U. S. The family has a rich history of military service dating back to the Revolutionary War. William F. Howard III's father served in WWII and he lost three great, great, great uncles at the Battle of Gettysburg during the Civil War. He proudly displays his grandfather's WWI discharge paperwork in his home office in the western North Carolina mountains.
Howard is Vice President of Human Resources for the Bernhardt Furniture Company in Lenoir, N.C. His sons live in Charlotte, so coming to Kansas City to see the Museum and Memorial took some planning.
The trip proved to be extremely rewarding and meaningful. Howard reflects:
"When my sisters and I were cleaning out our parent's home a couple of years ago we discovered a treasure trove of information related to my grandfather's WWI service, including photos of him while in service, a huge map of France, complete with marks indicating battle lines, troop movements and modes of transportation (ship, train, foot). The most impressive find was his actual enlistment record/discharge paperwork.
"My grandfather, like so many of his generation, was a simple farmer with a 5th grade education when the war began, but he returned from his service in the war and soon after began a very successful business career as General Manager and Partner with Belk Department Stores. He passed away in 1986 at the age of 89. Coming to the Museum and Memorial was quite sentimental. It was a way to honor my grandfather's memory and all he stood for."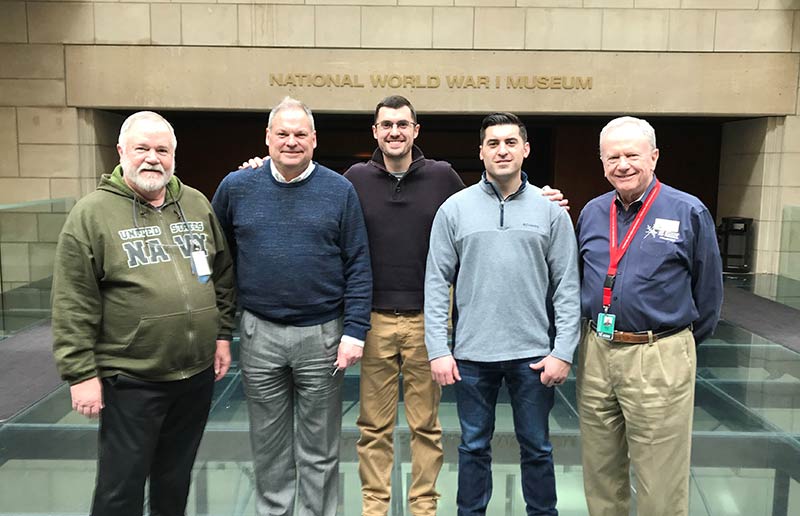 How was Henderson able to make this special visit happen for the Howard family? Each year, the Museum and Memorial hosts an annual Night at the Tower gala, which includes a silent auction. A popular item is a VIP tour of the Museum and Memorial, hosted by Rear Admiral Stanton Thompson (U.S. Navy, Ret.) , whois a member of the Museum and Memorial's National Advisory Board and is the highest ranking naval officer in Missouri. Henderson won the bid and, knowing of Howard's personal interest in WWI, Henderson decided to gift his auction item. Henderson also arranged to have Rear Admiral Thompson meet the group in the Over There Café for coffee and conversation prior to their tour of the Museum and Memorial.
The Museum and Memorial extends its appreciation to Henderson and Lockton Companies, and welcomes Howard and his sons to the ranks of visitors and supporters for whom the Museum and Memorial has offered an enhanced understanding of the origins, sacrifices and enduring impact of the Great War.