Save the Date | Sept. 28, 2024
Thank you to all who sponsored, supported and participated in Night at the Tower 2023!
Celebrate a Kansas City treasure
A departure from the traditional sit-down gala experience, Night at the Tower is a night like no other!
A spectacular night of food, fun and entertainment awaits – as well as your chance to bid on some special items and support growing our mission.
Image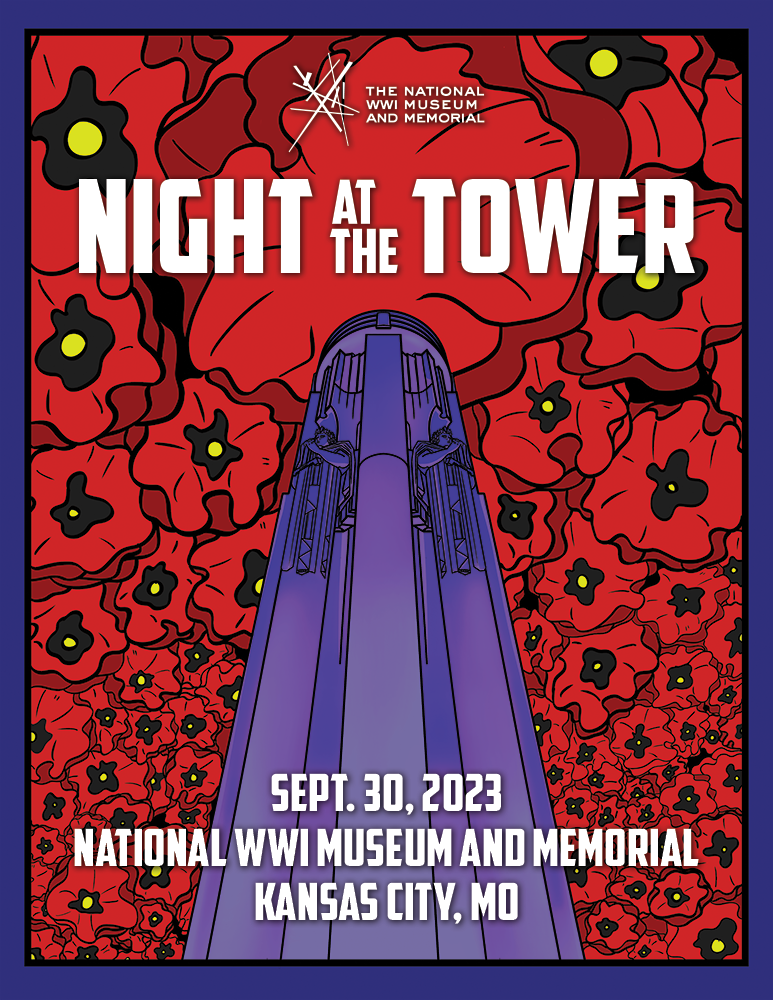 Musical Guests
Lost Wax
Classic rock, oldies, popular Top 40s hits or just your favorite songs – Lost Wax creates the best original mashups that get everyone on the dance floor.
(Official 2023 NFL Draft Band)
Image

Signature Cocktails
Old Fashioned
Rieger's Kansas City Whiskey, sugar, bitters, cherry, orange
Route Sixty Spritz
Rieger's Vodka, raspberry, lemon cordial. sparkling wine
Event Co-Chairs
---
Katrina and Tom Henke
Erik Bergrud and Kimberlee Ried
Jack F. and Glenna Y. Wylie Charitable Foundation / Midwest Trust / Thomas A. McDonnell
Bart and Joanie Bergman Family
Bryan Cave Leighton Paisner / Elaine Drodge Koch and Steve Koch / John and Ann Readey
John Sherman and Marny Donnelly Sherman
UMB Financial Corporation
Thomas and Sally Wood Family Foundation
Erik Bergrud and Kimberlee Ried
Michael and Marlys Haverty
Ellen and Irv Hockaday Jr.
Muriel McBrien Kauffman Family Foundation
Pritzker Military Foundation on behalf of the Pritzker Military Museum & Library
Connie and Robert Waldrop II
Julie Wilson and Sara Wasson
Dennis and Mary Beth Welzenbach
Atterbury Family Foundation
David and Catherine Brain
Mark and Stephanie Coulter
The DeBruce Foundation – Paul and Linda DeBruce
Enterprise Holdings Foundation
Shirley and Barnett C. Helzberg Jr.
Kansas City Parks and Recreation Department
Kinetic Fundraising, Incorporated
PipeFitters Local Union No. 533
M. Jeannine Strandjord /
Ewing M. Kauffman Foundation
White-Simchowitz Family Charitable Fund
Roger Arwood and Marcelle Cooper
Kay Barnes and Tom Van Dyke
Dustin and Rochelle Clark
Maryann and Neal Farnsworth
Jerry Foulds and Katie Van Luchene
George S. Robb Centre for the Study of the Great War at Park University
John and Elizabeth Hjalmarson
Patrick and Rhonda Johnston
Elizabeth and Martin Nevshemal
Michael and Susan Newburger Foundation
Dr. Joy Stevenson and Dr. John Sheets
Tension Envelope Foundation
Kansas City Homes & Style