Image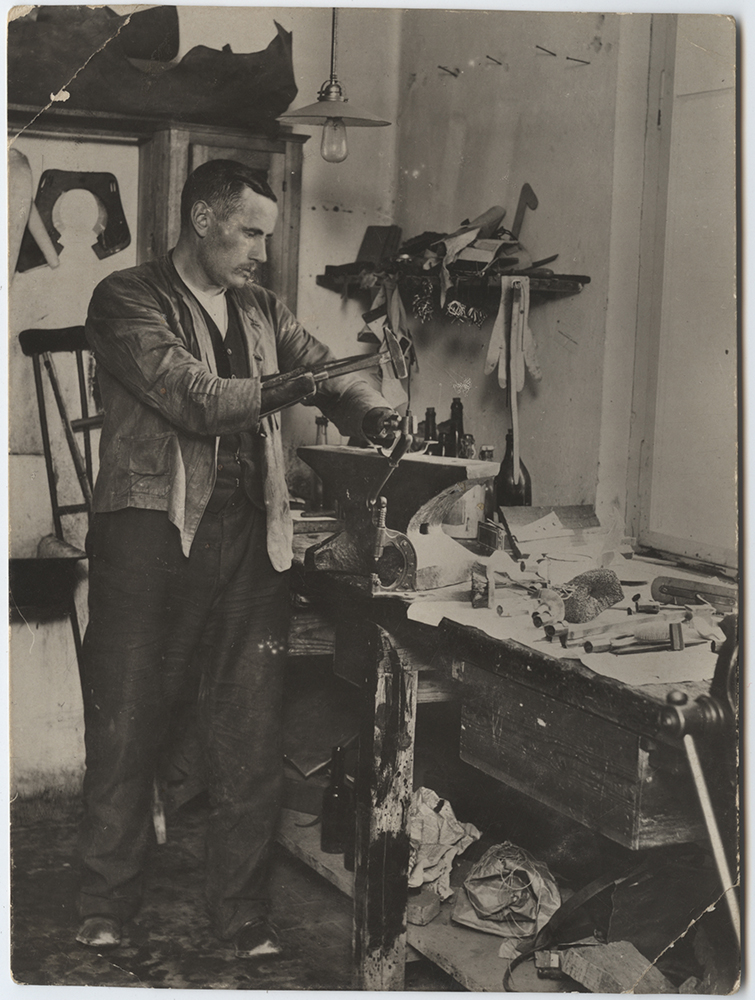 Workshop
Wounded soldier with two prosthetic arms undergoing instruction in a workshop of the Hindenburg House in Königsberg, East Prussia (now Kaliningrad, Russia).
Image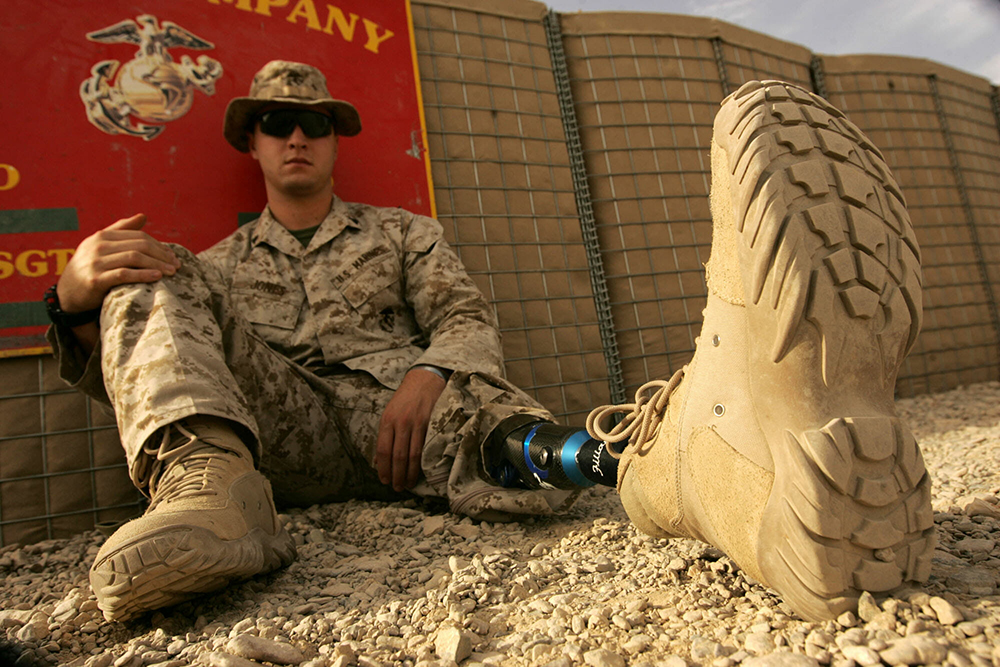 Corporal Garrett S. Jones
Over 1,650 U.S. troops have suffered limb loss during the wars in Iraq and Afghanistan. With the help of military, medical, and social agencies, Veterans Affairs's amputee-centric research aims to enhance patient mobility and comfort, prevent injury, and improve the design and function of prostheses.
The VA is dedicated to improving the current standard of care when it comes to the design of prosthetics. Their Center for LimbLoss and MoBility is focused on improving prosthetic prescription by investigating the efficacy of prosthetic components used in current clinical practice, and developing novel approaches to improve performance and care.
Photography by Sergeant Ray Lewis courtesy of the U.S. Army
Visitors are invited to explore the evolution of prosthetic devices through visual stories, historical timelines, and videos. These stories demonstrate that when more perspectives of people who use prostheses are part of the creation process, the better the design.
Bespoke Bodies features close to 50 examples from around the world – spanning a prosthetic arm with a lego attachment to mind-controlled bionic limbs – with stories of professional athletes, veterans, and children who became part of their own design process.
Image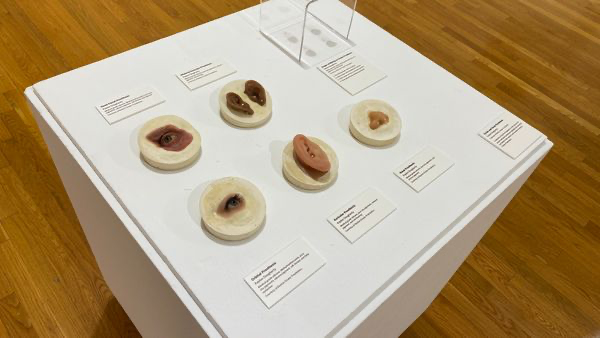 Ocular and facial prosthesis
Boston Ocular Prosthetics provides a multitude of services to patients with physical and visual disabilities. Individuals who are missing an eye as a result of trauma or illness or who are born with a facial difference can be fitted for an ocular prosthesis, while others who may have missing ears or noses can receive maxillofacial prosthetics.
Image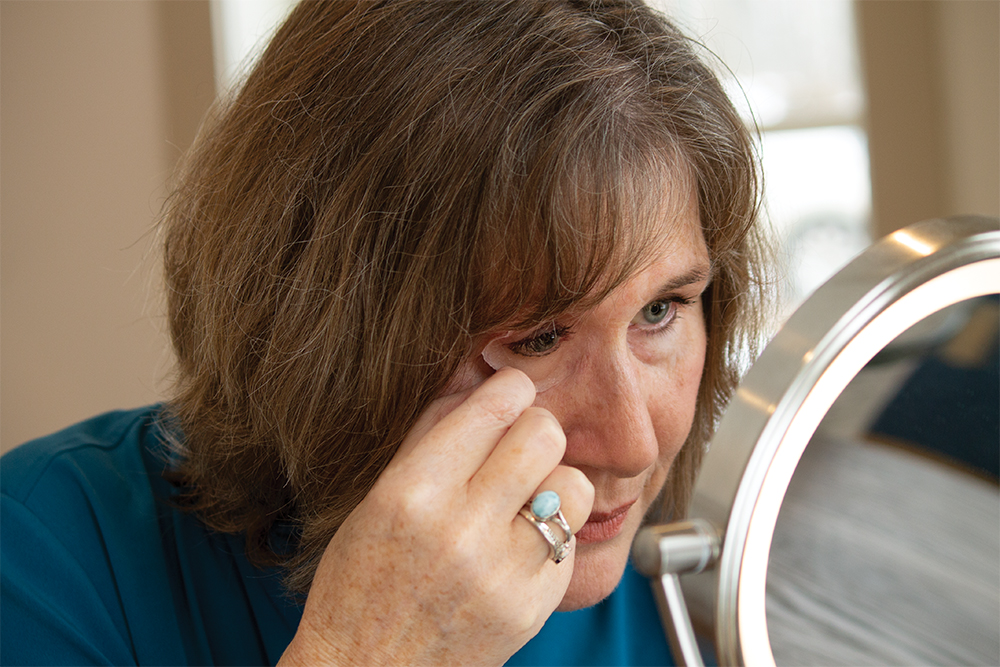 Image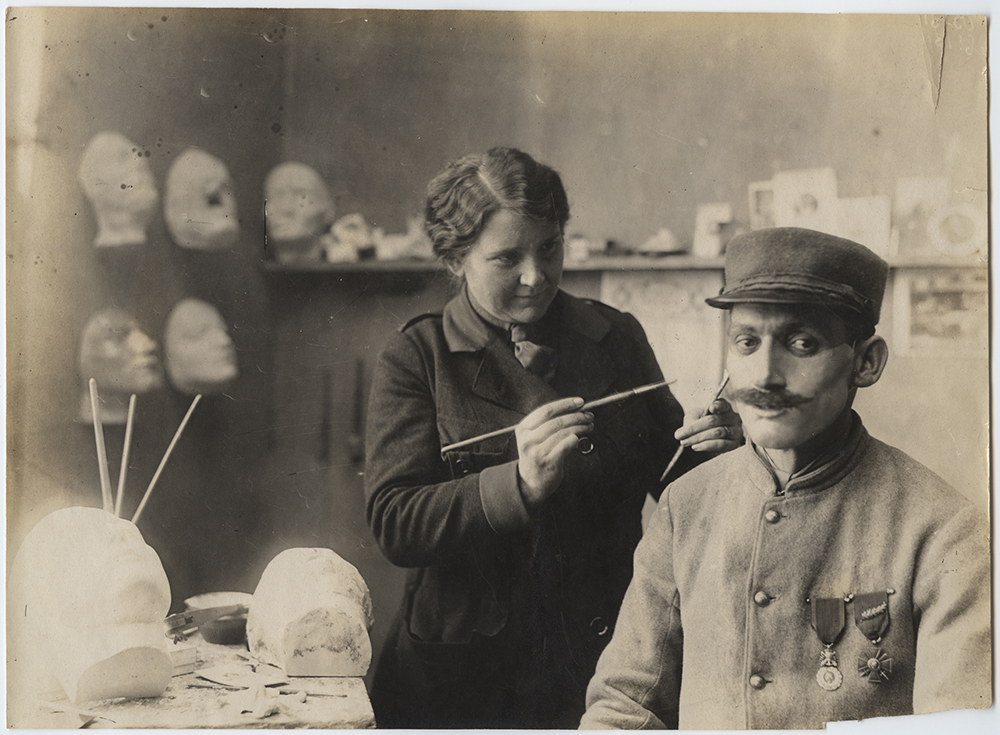 Anna Coleman Ladd
Anna Coleman Ladd at work on a facial prosthetic piece in the American Red Cross Studio for Portrait Masks for Mutilated Soldiers.
Developed with a committee of advisors made up of people who use and create prostheses, Bespoke Bodies aims to broaden conversations around disability and design. The exhibition considers traditional artificial limbs and a wide range of physical, aesthetic, and cognitive innovations. It features advancements in medicine, robotics, sensors, and 3D printing that have transformed what's possible for the future of human mobility.
Image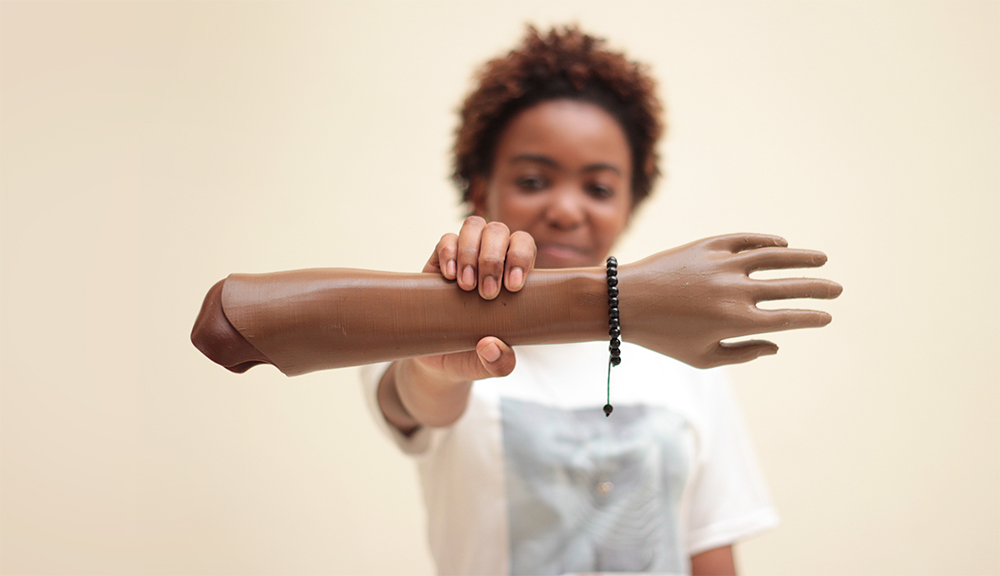 LimbForge 3D-printed arm
A LimbForge patient in Haiti named Ebe, with her 3D-printed prosthetic arm. Ebe's prosthesis is an evolved version originally crafted by Arthur Hobson and Jeff Erenstone. LimbForge is an organization dedicated to aiding the shortage of prosthetic rehabilitation in the developing world.
Photography courtesy of LimbForge
Image
Wooden carrying hand
"Openshaw" wooden carrying hand with a tenon thumb. A special feature of the hand is that the ring and little fingers are held rigid, in a slightly flexed position, with steel reinforcement which extends into the palm. This allows bags and other objects to be carried.
Image
Image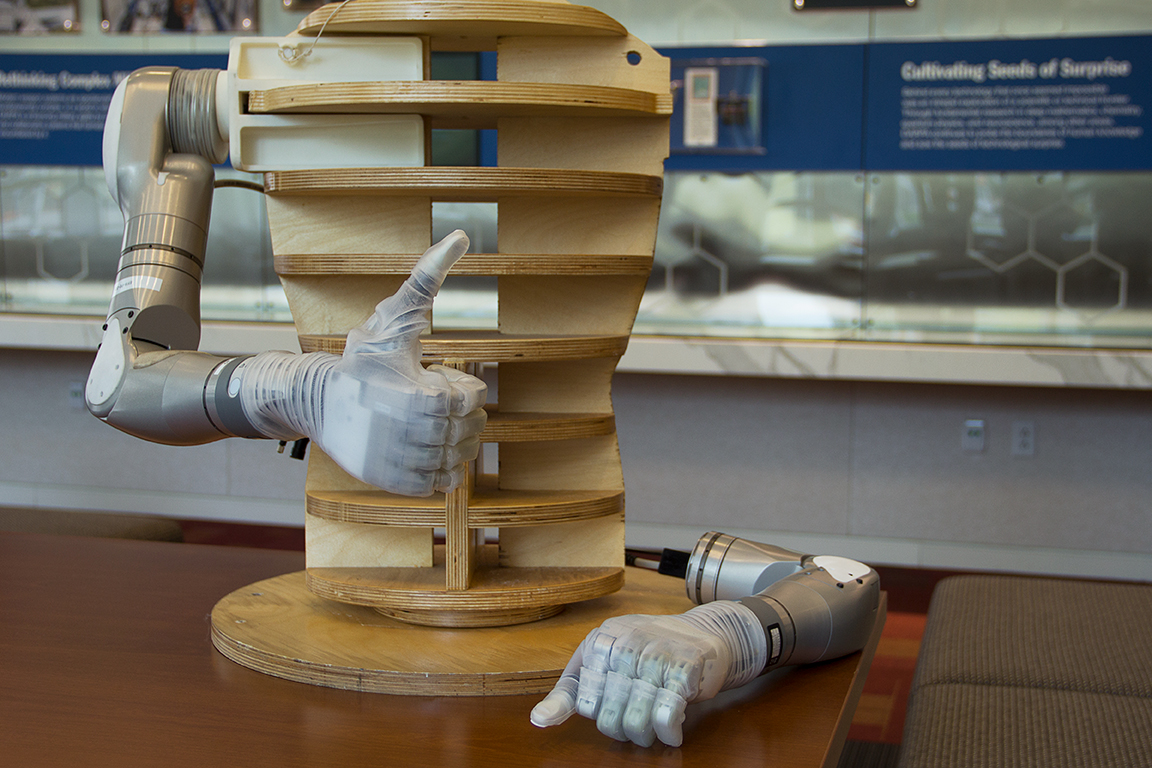 LUKE Arm
The LUKE Arm, developed by DARPA and DEKA Integrated Solutions, offers new levels of dexterity and flexibility to upper-limb prosthetic users. "LUKE," which stands for Life Under Kinetic Evolution, is also a reference to the limb with which Luke Skywalker was endowed in "The Empire Strikes Back".
Image
Synchronised
Model Kelly Knox with her Synchronised prosthetic arm. A collaborative design by Sophie de Oliveira Barata (The Alternative Limb Project) & Dani Clode for Kelly Knox.
Photography by Omkaar Kotedia
Image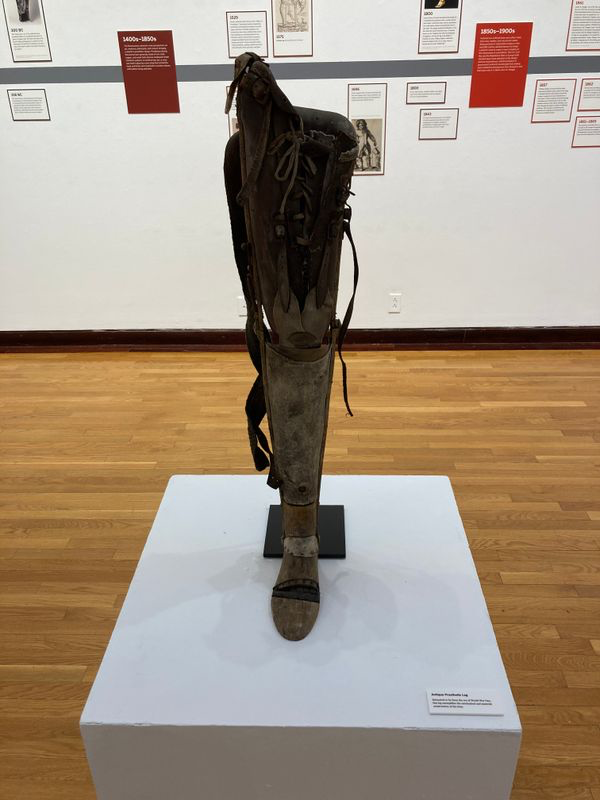 Antique Prosthetic Leg
Estimated to be from the era of WWI, this leg exemplifies the mechanical and material construction of the time.
Custom Leg Covers
Custom leg covers from ALLELES Design Studio are revolutionizing the prosthetics industry and empowering people with limb loss around the world. By shifting the conversation from one about function to style, their cover revamps traditional prosthetics and highlights the importance of individualized expression.
Image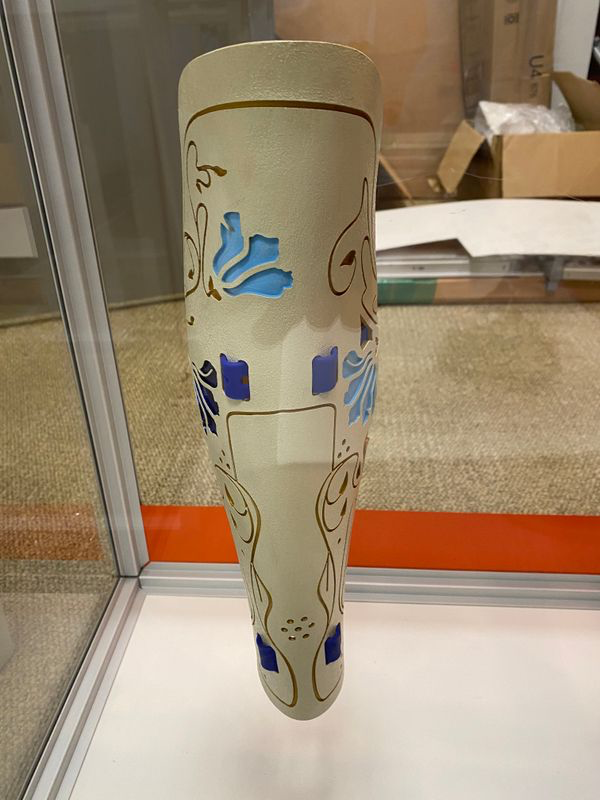 Image

Exhibition Honorary Chairs
Billy Brimblecom Jr.
Brian Lore
Lindsey Roy
Dr. Charles Van Way III
Gold Level
---
Hallmark Cards Inc.
Dr. Charles Van Way III
Silver Level
---
Knit-Rite LLC
Neighborhood Tourist Development Fund
Bronze Level
---
Dr. Peter Greenspan
Hanger Clinic
Kansas City Orthopaedic Institute
Dr. Susan and Dr. Charles Porter
Drs. Michella and Michael Stiles
Image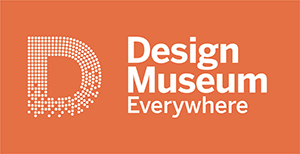 Bespoke Bodies: The Design and Craft of Prosthetics is presented in collaboration with Design Museum Everywhere.
To learn how you can support this exhibition, or how to become a member of the exhibition Honorary Committee, contact Paige Gammon at pgammon@theworldwar.org.