Nursing played a crucial role during the First World War. Emergency medical practices evolved enormously during the war years (1914–1918) and thousands more medical workers were involved than in previous wars. New and innovative practices included blood transfusions, the use of antiseptics, local anesthetics, and painkillers. During the course of the War, membership in the American Red Cross grew from 17,000 to more than 20 million, and 20,000 registered nurses were recruited for military service. In the United Kingdom, 38,000 members of the Voluntary Aid Detachment (VAD) served in hospitals or worked as ambulance drivers and cooks.
Modern medical nursing finds its origins in the remarkable career of Florence Nightingale, the "ministering angel" and "lady with the lamp" who served day and night during the Crimean War (1853–1856). Her understanding of the importance of hygiene saved countless lives and set the stage for nursing as we know it today. Nightingale's model was followed and greatly expanded upon during the First World War by remarkable women such as Edith Cavell, who saved many lives from both sides of the conflict but ended up before a German firing squad; and the subversive motorbike-riding team of Mairi Chisholm and Elsie Knocker, who left their military medical stations to set up their own clinic closer to the front lines where they could save lives rather than simply provide transportation to the morgue. Similarly, novelist Mary Borden founded a field station that she called "the second battlefield" close to the front lines.
The works exhibited align with the quasi-myths of wartime nursing as described by author Christine Hallett: the courageous voluntary aid detachment, the romantic nurse, and the "nurse-as-heroine." We only know the identity of one of the nurses seen here, Olga Bing, who set down her experiences in drawings that were then reproduced as a portfolio. Although nothing is known of Bing beyond this portfolio, it is a wonderful testament to the care and dedication of nurses during the First World War.
This exhibition is drawn primarily from a highly significant gift of more than 3,000, predominantly French WWI works donated to the Spencer Museum of Art, University of Kansas, in 2014 by Professor Eric Gustav Carlson and is on loan to the National WWI Museum and Memorial from the Spencer Museum of Art. This exhibit is sponsored by the Francis Family Foundation, Kansas City, Mo.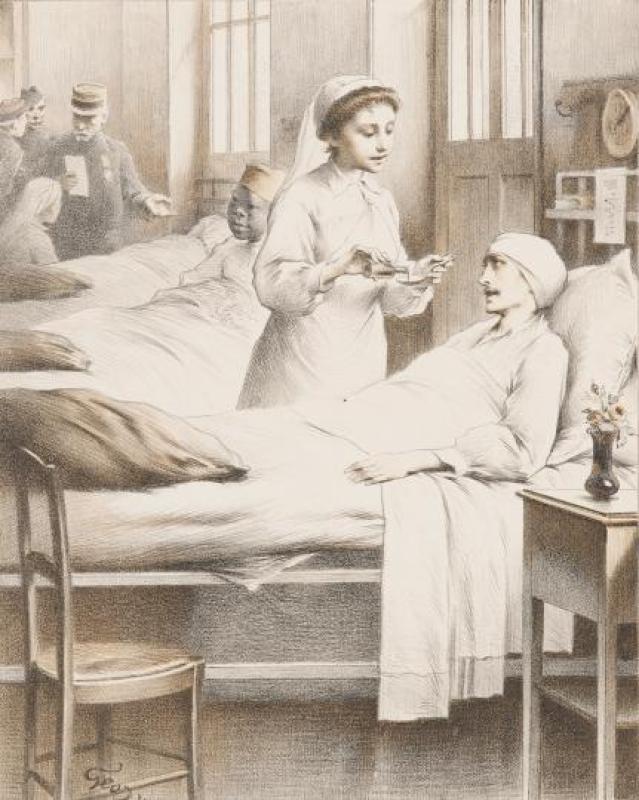 Henri Jules Jean Geoffroy, 1853–1924; born Marennes, France; died Paris, France; Untitled , 1914–1918; color lithograph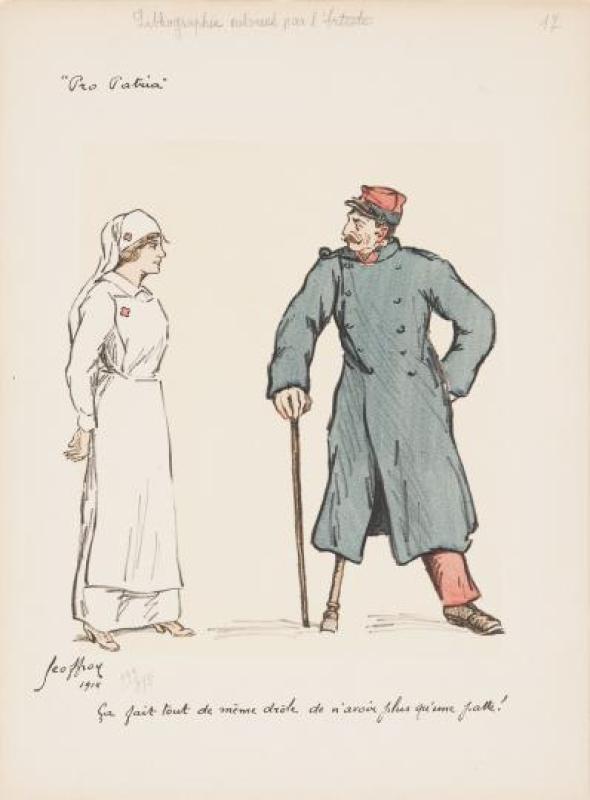 Attributed to Henri Jules Jean Geoffroy, 1853–1924; born Marennes, France; died Paris, France; Ça fait tout de mème drole de n'avoir plus qu'une patte! (All the same, it's funny not to have more than one foot!); From the series Pro Patria, 1915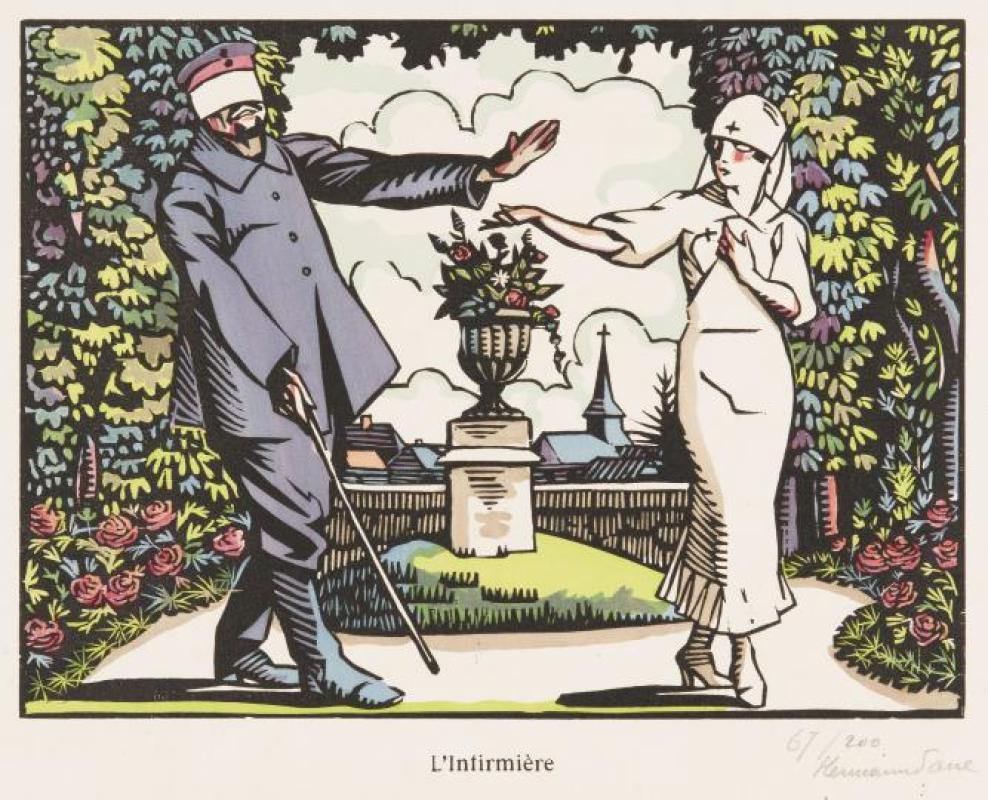 René Georges Hermann-Paul, 1864–1940; born Paris, France; died Les Saintes-Maries-de-la-Mer, France; L'Infirmière (The Nurse), 1914–1918; woodcut, pochoir