Image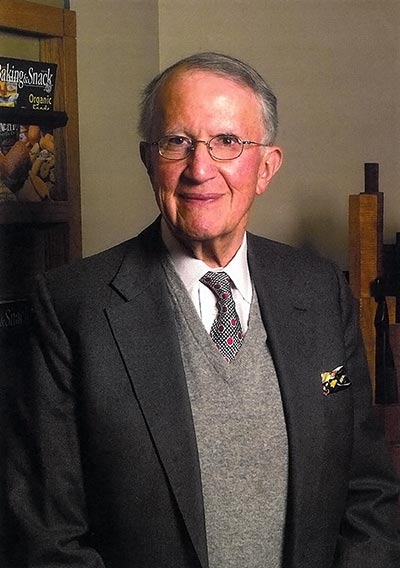 The Board of Trustees and staff of the National WWI Museum and Memorial are saddened by the passing of Morton Sosland.
Mr. Sosland, who led Sosland Publishing Co. for several decades and was a revered figure in the Kansas City and grain-based foods business communities, was 93 years old.
"It's challenging to put into words how much Mr. Sosland has meant to the Kansas City community," said National WWI Museum and Memorial President and CEO Dr. Matthew Naylor. "He was extremely generous and the degree to which he's positively affected this city is virtually incalculable. He will be incredibly missed, but certainly not forgotten."
A WWII veteran who served with General George Patton during the Battle of the Bulge, Mr. Sosland received the "Mr. Kansas City Award" from the Greater Kansas City Chamber of Commerce in 1975 for his outstanding service to the city. Among a multitude of organizations, Mr. Sosland was a major supporter of The Nelson-Atkins Museum of Art and he served on numerous boards, including the Greater Kansas City Chamber of Commerce, the Hall Family Foundation, the Jewish Community Foundation, the Midwest Research Institute, Menorah Medical Center, St. Luke's Hospital, the Truman Medical Center Foundation and the Marion and Henry Bloch Foundation.
Mr. Sosland's generosity, and that of the Sosland Family Foundation has long benefited the mission of the National WWI Museum and Memorial, positively affecting people across the globe. Through Mr. Sosland's endorsement, the Sosland Family Foundation made a lead gift for the Museum and Memorial's recently completed $25 million Call to Duty capital campaign. These funds directly helped enhance education programs that reached more than 14.5 million students in 2018, led to the construction a new state-of-the-art exhibition gallery for traveling and changing exhibitions and facilitated improvements to the operating infrastructure.
In addition to his service, Mr. Sosland's father and several uncles served in the First World War. The Army made use of his father David's agricultural background by making him responsible for all of the Army's hay purchases. His Uncles Abe and Sam also served in the war, and his Uncle Sam attended veterans' reunions for many years after the war was over.