Image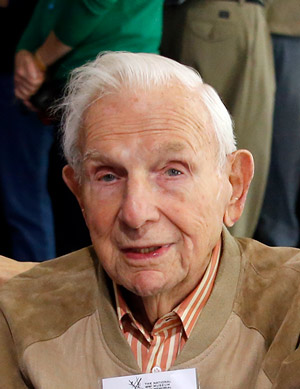 The Board of Trustees and staff of the National WWI Museum and Memorial mourn the loss of Henry W. Bloch, whose passing was announced today by H&R Block.
Mr. Bloch was a long-time supporter of the Museum and Memorial, made even more meaningful by his dedicated service as a navigator on 32 combat missions aboard a B-17 Flying Fortress bomber in WWII.
"We are saddened by the passing of one of the greatest entrepreneurs and philanthropists in Kansas City history," said National WWI Museum and Memorial President and CEO Dr. Matthew Naylor. "An absolute beacon of generosity and humility, Henry Bloch was incredibly dedicated to the great notion of simply making things better – it didn't matter what. Kansas City – and the world – is a better place because of Henry. That legacy will endure for a long, long time."
The Marion and Henry Bloch Family Foundation has generously supported the work of the Museum and Memorial, including providing leadership during the restoration and renovation during the 1990s and early 2000s. Mr. Bloch served as a member of the organization's Board of Trustees for a number of years, eventually becoming a Board of Trustees Emeriti. Most recently, Mr. Bloch and the Foundation generously contributed to the Museum and Memorial's $25 million Call to Duty capital campaign, which directly helped enhance education programs that reached more than 14.5 million students in 2018, led to the construction a new state-of-the-art exhibition gallery for traveling and changing exhibitions and facilitated improvements to the operating infrastructure.
"As a member of the 'greatest generation,' Henry Bloch serves as a model for us," said National WWI Museum and Memorial Board of Trustees Chairman Mark Henderson. "He inspired ordinary people to be extraordinary. The mission of the National WWI Museum and Memorial is stronger because of his legacy."
The National WWI Museum and Memorial announced in September 2018 that Henry Bloch and the Bloch Family will be honored at Night at the Tower, the Museum and Memorial's annual gala, on Sept. 14, 2019.