Image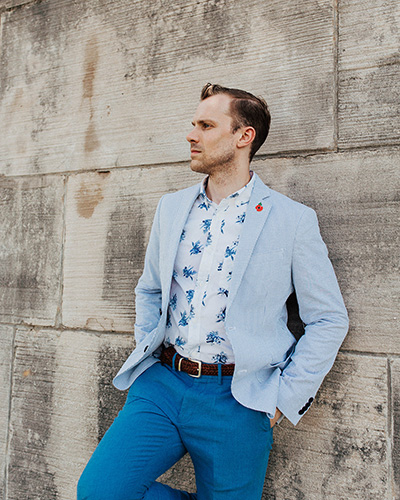 Spenser Albertsen has been with The Modernists since its founding and is passionate about the people and experiences within the group. As a life-long supporter of the National WWI Museum and Memorial, he is a frequent attendee at public programs and enjoys sharing the world-class exhibitions with friends and family. He loves to get together with like-minded people to talk about history, art and culture.
"The atmosphere we have created is very much that of bringing people in who didn't know there were others out there like them in their community," he says.
As the Mod Council Communications Chair for several years, his role was to spread the word about the events that The Modernists host through social media and creative promotional work. In his free time, Spenser enjoys creating art of all kinds.
Spenser is originally from Nebraska, where he attended the University of Nebraska and graduated with a bachelor's degree in fine arts and graphic design. Since moving here, he has enjoyed all of the hidden gems in KC that make it so unique. From the Negro Leagues Baseball Museum to the American Jazz Museum, he loves it all. As he says, "There is a wealth of history in Kansas City, you just have to dig for it."
But most of all Spenser has a soft spot for the National WWI Museum and Memorial. Although he is a big fan of the tried-and-true exhibits, he loves visiting new exhibits - a recent favorite is Silk and Steel, exploring French women's experiences during WWI through the lens of fashion, which he found especially captivating.
When Spenser isn't helping out with The Modernists at the Museum and Memorial (and the world isn't in the midst of a pandemic), you can find him globetrotting. It's no surprise with his love for art and history that his favorite trips involve old architecture and intriguing art museums. A worldwide viewpoint is a common theme throughout The Modernists, and Spenser believes this is why he loves to travel so much.
"Life can be a straight, dark shot if you let it. Or, you can cut through mountains to experience new things and become a better person. You think and breathe differently after traveling. The world offers so much, and to expand our understanding can be a gift back," he says.
After the many years Spenser enjoyed serving on the Mod Council, he is stepping back in 2022 to spend more time on personal projects. Spenser continues to be part of The Modernists and looks forward to all that the group and 2022 has to offer!