Image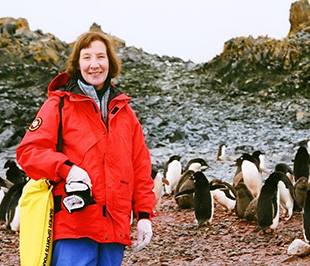 A visit with Dr. Arlene Segal can last for hours because her story could fill the pages of a book: her impressive medical career, her love for history and the National WWI Museum and Memorial and her passion for wildlife conservation.
Arlene grew up in New York City and from a young age wanted to become a physician. Discouraged by everyone except a high school teacher, she only became more determined, and earned a full-tuition scholarship to Duke University. When she applied to medical school, the interviewer asked why she should be accepted when she should be at home taking care of a husband.
She was admitted to the Albert Einstein College of Medicine in New York and graduated in 1962. (She notes that her class included more women than most at that time: she was one of four.)
Her drive to challenge the status quo led her not only to become a physician but also a pioneer in pediatric radiology. Arlene held faculty or teaching appointments at five major schools or hospitals, sat on numerous hospital and university committees, and published or presented on a litany of radiology topics. She was an active member of radiology societies, serving as President for three.
In 1982 she came to Children's Mercy Hospital in Kansas City, Mo., eventually becoming Chief of Radiology.
The first time she went to the top of the Tower in the 1980s, it was still the Liberty Memorial. And she was instantly intrigued when she visited Exhibit Hall and Memorial Hall. She felt she had not learned much World War I history in school, noting, "We learned that we won, and that was about it." Her visits inspired her to read books to build on her knowledge of all things WWI.
Today, Arlene regularly brings friends to view the current exhibitions and enjoy lunch at the Museum Café. Her favorite part of the Main Gallery is the reproduction of the trenches, as she believes it is important to give people a visual concept of what the war was really like. She looks forward to the monthly postcards from the Museum and Memorial which detail upcoming exhibitions and events.
Arlene has been a Museum member since 2015. When the Night at Tower gala debuted seven years ago, Arlene became a regular attendee and supporter, including tuning in from home when the gala pivoted to a private broadcast event due to the pandemic. In 2021 she became an Ally Sponsor of Night at the Tower and thoroughly enjoyed the celebration.
Arlene supports the Museum and Memorial with periodic annual gifts. She also attends as many programs, events, lectures and exhibitions as she can. To date, her favorite exhibition has been Vive L'Amérique: French Children Welcome Their American Ally, featuring letters and drawings from French children expressing how the war affected their daily lives.
As if her life and career have not been full enough, Arlene is passionate about wildlife conservation. Her devotion to seeing a wide variety of animals in their natural habitats knows no bounds, resulting in visits to 157 countries and every continent. She visited Alaska for the sixth time in August 2021, going by airplane and boat for an up-close observation of grizzly bears and their cubs salmon feeding.
Arlene has no intention of slowing down and looks forward to continuing her travels in support of wildlife conservation and resuming in-person visits to the Museum and Memorial galleries, exhibitions and Night at the Tower. According to Arlene, "It's a great honor for Kansas City to have the National WWI Museum and Memorial here, as it attracts people to come see it from afar." The Museum and Memorial is honored, as well, to count Dr. Arlene Segal among its treasured friends and supporters.