Image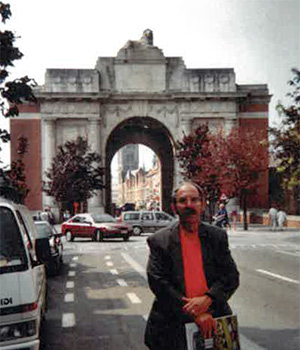 When and how did you first get involved with the National WWI Museum and Memorial?
My first visit to the Liberty Memorial was in May 1959 on an 8th grade field trip to Kansas City from Baldwin City, Kan. Through the years, I returned to the Museum and Memorial with my family over Christmas vacations until the Museum and Memorial was shut down during the renovation. I then became a volunteer at the Museum and Memorial in 2006.
What is your connection to World War I and how does it influence your volunteerism at the Museum and Memorial?
My work at the Museum and Memorial is a continuation of my interest in World War I that began in my youth in memory and service to remembering and honoring World War I soldiers and their sacrifice. I consider being able to do volunteer work at the Museum and Memorial a privilege and honor to experience ongoing WWI education. With other volunteers, I have been able to participate in special WWI discussion groups and lectures and annual symposiums.
Who is Russell Alger Wilson and why is it important to know his personal story and that of others like him?
I first came across information in 1988 about Russell Wilson, who was killed on Nov. 10, 1917 at Passchendaele Ridge in Belgium, in the stadium at Baker University. He was a former Baker University student, like me, which created a historical relationship that has never left me since. I have travelled to Belgium five times to find Russell's name on the Menin Gate, visit the hill where he was atomized by a heavy artillery shell, to Ottawa Canada where he signed up with the Canadian Army, and to the Kansas History Museum and Baker University, combing through newspaper death notices for a "missing" local boy until his death was confirmed.
Just as I have found Russell Alger Wilson a real and interesting person in his life and death in the early 20th century I have also discovered his unique journey fighting as a U.S. citizen for the Canadians before we entered the war and his death at Passchendaele Ridge. It is a special story, but his story is probably like thousands and even millions of other soldiers in WWI fighting in all the armies and opposing forces.
What is your favorite object or document on display at the Museum and Memorial?
I have two favorite objects at the Museum and Memorial in Memory Hall. One is the brass plaque remembering the deceased Kansas City area soldiers who gave their lives in WWI, which includes a listing for Russell Wilson. It's interesting that he is on this plaque as his enlistment with the Canadian Army seemed to disqualify him from being on any other U.S. memorial lists locally. To see his name on this plaque shows deserved respect and remembrance. Every time I am assigned to volunteer work in Memory Hall I go to the plaque and touch his name in remembrance.
My other favorite objects in Memory Hall are the painted, illustrated maps of the battle theaters and depots all over Belgium and France. To me, they are unique WWI-era artworks.
What do you see as the importance of the National WWI Museum and Memorial to the Kansas City community and the world?
The National WWI Museum and Memorial is important as it gives a historical record of Kansas City and much of the Midwest's participation in crucial events of the early 20th century that have affected much of the last century into our present time. We take our place among international museums to preserve the history and memory of WWI to honor those who gave their lives. To work in this Museum and Memorial is a contemporary way to "keep green the memory."