The Museum and Memorial, with The Gilder Lehrman Institute of American History, offered World War I and Its Aftermath, a special week-long Teacher Seminar, in July 15-21, 2018.
This seminar featured Dr. Jay Winter, who examined the origins, scope and consequences of World War I with a particular emphasis on the revolution in violence between 1914 and 1918, the obliteration of the distinction between military and civilian targets, the failed peace settlement and the patterns of remembrance.
Participants chosen for this highly competitive program received a week of in-depth content knowledge shared by Dr. Winter, Gilder Lehrman Master Teacher Fellows and members of the Museum Collections and Education staff, with limited travel reimbursement, as well as hotel accommodations and meals.
2018 Participants
Image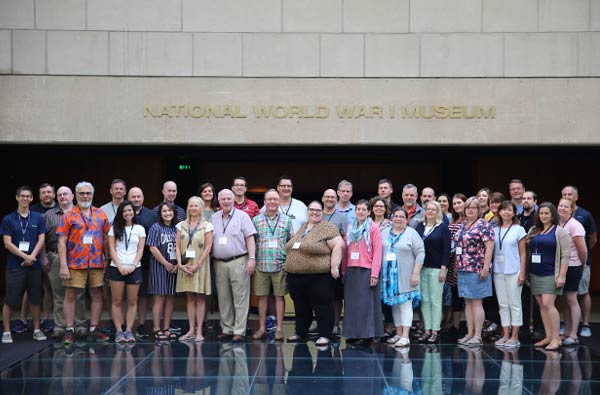 Hilary Barron – Monta Vista High School (Cupertino, CA)
Rob Bell – Thornridge High School (Dolton, IL)
Wendy Berkelman – Belle High School (Belle, MO)
John Carnesecca – Great Oak High School (Temecula, CA)
Katelynn Catalano – John W. McDevitt Middle School (Waltham, MA)
Paul Court – Salesian High School (New Rochelle, NY)
April Crandall – Jacobsen High School (Minden, NV)
Brad Edmondson – Southview Middle School (Ankeny, IA)
Chris Fong – PUC Lakeview Charter High School (Lakeview Terrace, CA)
Audrey Goebel-Hall – Avondale West Elementary School (Topeka, KS)
Shane Gower – Maranacook Community High School (Readfield, ME)
Wendy Harris – Metro Deaf School (St. Paul, MN)
Nancy Haven – Dover High School (Dover, NJ)
Joanne Heffley – Dover High School (Dover, AR)
Jim Henrickson – Calvary Lutheran School (Dallas, TX)
Ashley Hooper – Cupertino High School (Cupertino, CA)
David Lyons – St. Mark's School (Southborough, MA)
John Lyons – Groton School (Groton, MA)
Theresa Mengerink – Vantage Career Center (Van Wert, OH)
Jared Meyer – Monaco Middle School (Las Vegas, NV)
Heather Monson – United Township High School (East Moline, IL)
Robert Prichard – St. Clair Senior High School (Saint Clair, MO)
Mike Pritts – Fountain Fort-Carson High School (Fountain, CO)
Emily Radford – Albert Hill Middle School (Richmond, VA)
Amber Rogers – Corner Canyon High School (Draper, UT)
Ray Ruhlman – McQuaid Jesuity High School (Rochester, NY)
Stacey Savin – Kingswood Oxford School (West Hartford, CT)
Jamie Sawatzky – Rocky Run Middle School (Chantilly, VA)
John Simon – Success High School (Round Rock, TX)
Catherine Sommer – Maryland Montessori School (Milwaukee, WI)
Brian Stephenson – Belleview High School (Belleview, FL)
Brian Weaver – Maple Grove Senior High School (Maple Grove, MN)
Nicole Winter – Cosby High School (Midlothian, VA)
Craig Wood – Armstrong Middle School (Starkville, MS)
Also pictured:
Dr. Jay Winter, Charles J. Stille Professor of History Emeritus, Yale University
Ron Adkisson, Gilder Lehrman Institute Master Teacher
Cherie Kelly, School Programs Manager, National WWI Museum and Memorial