Congratulations to our 2017 Gilder Lehrman Institute Teacher Seminar participants! The National World War I Museum and Memorial was excited to partner with The Gilder Lehrman Institute of American History for a special week-long Teacher Seminar in July 16-22, 2017: World War I and Its Aftermath. 
This seminar featured Dr. Jay Winter, who examined the origins, scope and consequences of World War I with a particular emphasis on the revolution in violence between 1914 and 1918, the obliteration of the distinction between military and civilian targets, the failed peace settlement and the patterns of remembrance.
Participants chosen for this highly competitive program received a week of in-depth content knowledge shared by Dr. Winter, Gilder Lehrman Master Teacher Fellows and members of the Museum Collections and Education staff, with limited travel reimbursement, as well as hotel accommodations and meals.
Image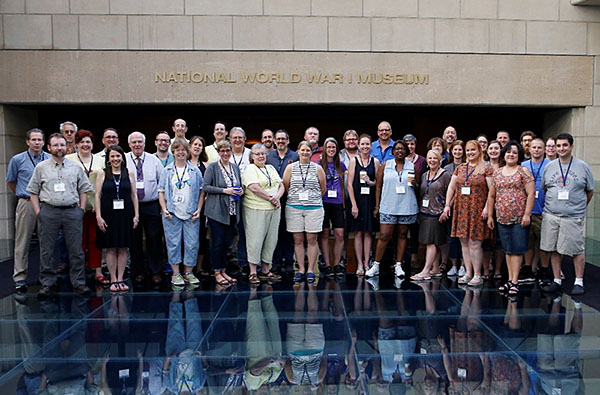 Laura Abbott — National Mall and Memorial Parks (Washington, DC)
Deborah Anderson — Wakakea Intermediate School (Hilo, HI)
Joseph Blacketer — Grassfield High School (Chesapeake, VA)
Diane Bugler — Captain Samuel Brown School (Peabody, MA)
Valerie Cichy — Rhodes Junior High School (Mesa, AZ)
Robyn Cleaver — Warwick Senior High School (Warwick, WA)
Christina Cone — Smithtown High School – West (Smithtown, NY)
Randy Cotts — Byron Center High School (Byron Center, MI)
Terry Crout — Eagles Landing Middle School (Boca Raton, FL)
Kason Dalton — Dent Middle School (Columbia, SC)
Ryan D'Arcy — Kansas School (Kansas, IL)
Emmett Dougherty — Lewiston High School (Lewiston, ID)
Matthew Forte — Logan Elm High School (Circleville, OH)
Brenda Garcia — Stuyvesant High Schoo (New York City, NY)
Randall Griffis — Tahquamenon High School (Newberry, MI)
George Haldaman — Mascoutah High School (Mascoutah, IL)
Sharon Hartnee — Fiorella H. LaGuardia High School of the Arts (New York City, NY)
John Heeg — Robert Frost Middle School (Deer Park, NY)
Adam Hellebuyck — University Liggett School (Grosse Pointe, MI)
Courtney Howard — Rossville Junior Senior High School (Rossville, KS)
Laura Huffman — Cannon School (Concord, NC)
Thomas Hull — Andrews Osborn Academy (Willoughby, OH)
Carol Huneycutt — McNair Middle School (Fayetteville, AR)
Steve Kramer — The Hockaday School (Dallas, TX)
Justine Kuehle — San Rafael High School (San Rafael, CA)
Bruce Mize — West Point High School (North Columbus, MS)
Lisa Montgomery — Nichols Middle School (Evanston, IL)
Colleen Murray — Amundsen High School (Chicago, IL)
Stephanie Nelson — Mount Rainier High School (Des Moines, WA)
Bart Popowski — Douglas Middle School (Box Elder, SD)
Michael Rauer — Bishop Ireton High School (Alexandria, VA)
Sean Redmond — Santiago High School (Anaheim, CA)
Ellen Resnek — Downington East High School (Exton, PA)
Michael Sandberg — The Seven Hills School (Walnut Creek, CA)
Melissa Schuster — Superior Junior Senior High School (Superior, NE)
Julie Wheeler — The Harker Upper School (San Jose, CA)
Also pictured:
Dr. Jay Winter, Charles J. Stille Professor of History Emeritus, Yale University
David Mitchell, Gilder Lehrman Institute Master Teacher