This Memorial Day, join us as we give special honor and recognition to the individuals who sacrificed their lives while serving their country.
2023 Memorial Day Weekend
Friday, May 26 - Monday, May 29
Admission discount: Free General Admission for Veterans/Active-Duty Military and half-price general admission for the public during Memorial Day Weekend.
Image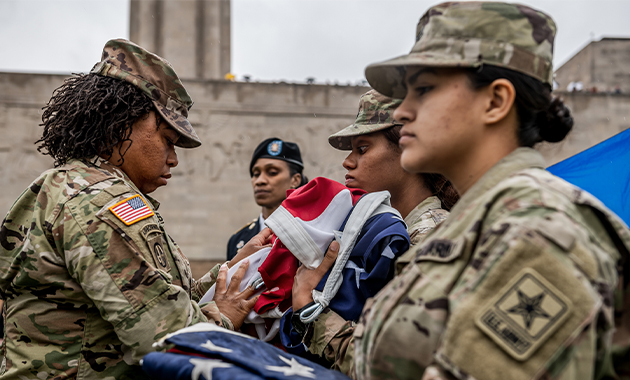 2023 Memorial Day Weekend Events
World War I Research Stations
When: During Museum hours, 10 a.m.-5 p.m.
Where: Outside Auditorium Lobby
What: Find your connection to World War I during Memorial Day weekend through research stations at the Museum. With access to multiple databases including Fold3.com, Ancestry.com, the Museum and Memorial's online collections database, the American Battlefield Monuments Commission and the National Archives, discover how the Great War affected your family through records, photographs and much more. FREE to the public.
Flags of Forgotten Soldiers Display
When: Monday, May 15 - Monday, May 29
Where: Walkway Terrace near Main Entrance
What: The Department of Veterans Affairs reports that every 72 minutes, a service member takes their own life. This moving display of 140 U.S. flags calls attention to the fact that 140 veterans are lost to suicide every week. FREE to the public.
"Remembering Our Fallen" Traveling Memorial
When: Thursday, May 25 - Monday, May 29
Where: Memorial Courtyard
What: Remembering Our Fallen is a photographic war memorial that honors U.S. military fallen from the Global War on Terrorism (2001-2021). Created by Nebraska-based Patriotic Productions, the memorial includes both military and personal photos. FREE to the public.
Vietnam Era Bell UH-1 Iroquois "Huey" Helicopter Display
When: Friday, May 26 - Monday, May 29
Where: U-shaped Drive
What: The Vietnam Veterans of America Chapter #243 will provide an iconic Bell UH-1 Iroquois "Huey" helicopter for people to climb aboard and inspect. FREE to the public.
Vintage Military Vehicle Display
When: Saturday, May 27 - Sunday, May 28
Where: Southeast Lawn
What: The Military Vehicle Preservation Association (MVPA) will display vintage military vehicles from World War I, World War II, Korean War and Operation Desert Storm. MVPA members will be available to answer questions about their collection. Availability subject to weather. FREE to the public.
Memorial Day Ceremony
When: Monday, May 29, 10 a.m.
Where: Memorial Courtyard
What: A formal public program to include remarks from dignitaries and a keynote address from Lt. General (Ret.) John "J.T." Thomson. Thomson served more than 34 years across the globe in the U.S. Army, including six combat deployments.
Music provided by The Resilient. ASL interpretation will be provided for the ceremony. FREE to the public.
Complimentary Concert: Frederick Hodges
When: Monday, May 29, 11:30 a.m.
Where: Paul Sunderland Glass Bridge
What: Frederick Hodges will play a 30-minute piano performance for those passing through the Museum. His artistry, virtuosity and charisma have captivated audiences worldwide for decades.
Memorial Day Bell Tolling Ceremony
When: Monday, May 29, Noon
Where: Memorial Courtyard
What: We commemorate those who made the ultimate sacrifice with a bell tolling ceremony featuring a presentation of colors, a wreath laying and a moving reading. It was also tolled 11 times at 11 a.m. on Nov. 11, 1926 during the dedication ceremony of the Liberty Memorial and again on Nov. 11, 2018 to commemorate the centennial of the WWI armistice. FREE to the public.
Walk of Honor Dedication
When: Monday, May 29, 2 p.m.
Where: Walk of Honor
What: New Walk of Honor granite bricks will be dedicated during a special ceremony. The Walk of Honor is divided into three sections: bricks dedicated solely to those who served in World War I; bricks dedicated to veterans of any military service; and bricks that honor civilian friends, family or organizations. Walk of Honor bricks are dedicated each year during a Memorial Day ceremony. FREE to the public.
Documentary: "Absent from Anzac: The Story of an Australian Nurse at War"
When: Monday, May 29, 3:30 p.m.
Where: Auditorium
What: In commemorating the millions of soldiers who fought in WWI on Memorial Day, we also honor the service of the volunteers and nurses who assisted them on the front lines and in the hospitals. In this documentary, Drs. Bruce Scates and Melanie Oppenheimer from Australian National University discuss the compelling and almost-forgotten legacy of Australian nurse Sister Narrelle Hobbes, who served Allied soldiers in the Mediterranean and Asia during the Great War.
Image