As World War I raged on, a crisis beyond warfare and shell shock emerged: Europe was running out of food.
Barren from drought and often the scene of battles, fertile farmland across the continent was rapidly disappearing. Combined with political issues like trade embargos and labor shortages due to the many farmers and farmhands drafted into the war, there were fewer people left to plant and tend to crops. No European country had the ability to grow a sustainable food supply for the foreseeable future.
Where could an area as large and vastly populated as Europe get enough food to keep everyone alive during and after the war? The answer was lying across the Atlantic Ocean in the backyards and empty fields of North America.
Image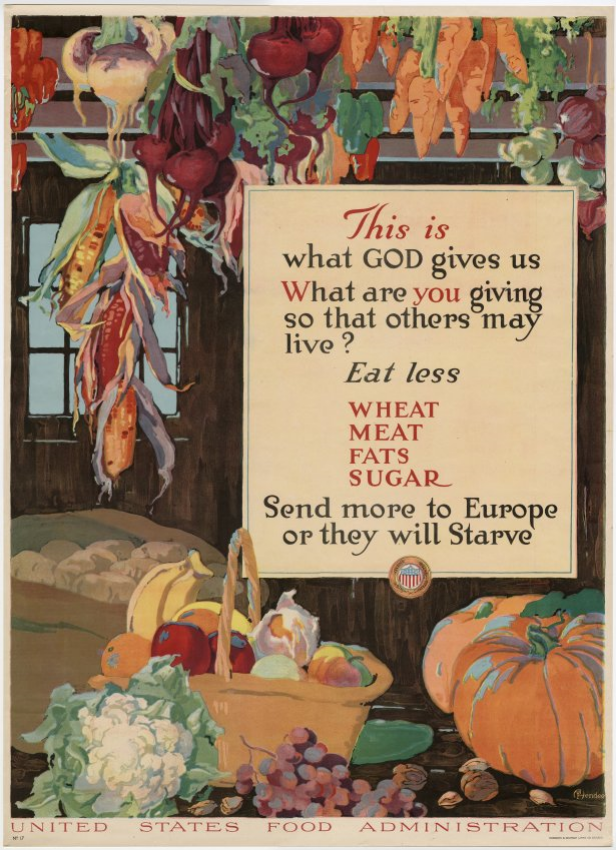 This is what God gives us - 1917 poster
A poster from the U.S. Food Administration. It reads: "This is what God gives us. What are you giving so that others may live? Eat less Wheat, Meat, Fats, Sugar. Send more to Europe or they will Starve."
Shortly before the United States entered the war in early 1917, Charles Lathrop Pack, a wealthy timberman from a family long involved in Michigan forestry, spearheaded efforts to aid with Europe's food shortage by organizing the National War Garden Commission, a program that encouraged nationwide participation from Americans of all ages to grow their own produce with home gardens.
As the United States government developed and distributed war garden pamphlets to teach novice gardeners about soil, compost, crops and how to assemble cold frames, gardens began blooming across backyards, public parks and schoolyards. Schoolchildren, known as "Soldiers of the Soil," contributed 3 million new garden plots in 1917 and more than 5.2 million the following year, according to History®.
Image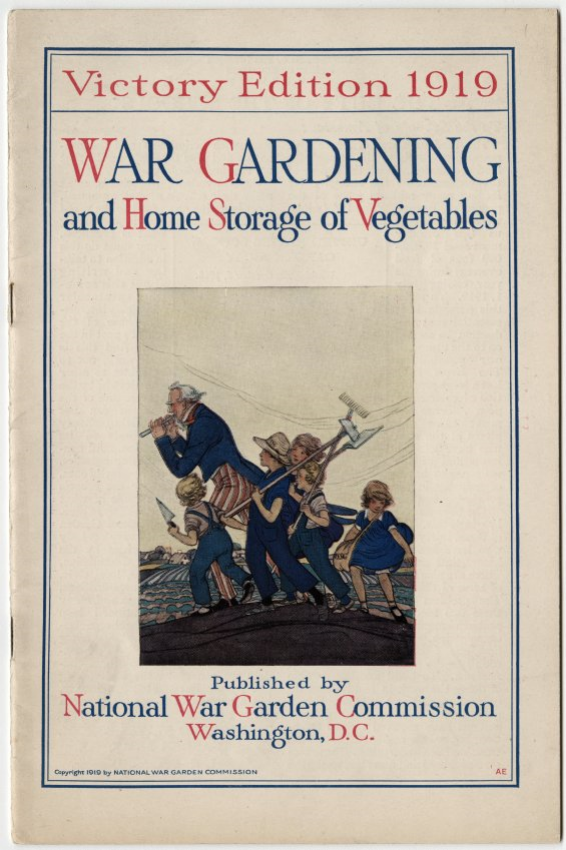 War Gardening and Home Storage of Vegetables - Victory Edition 1919
An instructional pamphlet by the National War Garden Commission. The cover illustration features Uncle Sam leading a charge of children with gardening tools.
Coinciding with national rations on meat, sugar, fat and flour, these widely distributed pamphlets instructed gardeners on how to prevent food waste, promoting food storage, seed-saving, canning and preserving.
Herbert Hoover, who served as Food Administrator during WWI, and would later become the President of the United States in 1929, prepared the country to send 20 million tons of food overseas by July 1919. According to the 1919 pamphlet War Gardening and Home Storage of Vegetables, the War Gardens of America produced food "which helped establish the balance of power between starvation and abundance" in Europe during the final two years of the war.