Edith Cavell was a British nurse who operated a medical clinic and nursing school in Brussels at the start of the war in August 1914. She chose to stay in her adopted homeland when the Germans invaded and provided medical treatment for injured soldiers, regardless of their nationality. She also helped smuggle injured soldiers and civilians out of Belgium to neutral Holland. Cavell was arrested by German occupation authorities in August 1915, charged under the German Military Code.
She admitted to having helped the servicemen escape and that some had even contacted her to say they had safely arrived in England. Cavell was sentenced to death not for aiding the escape of enemy servicemen, but because the men had been able to return to a country at war with Germany. She spent eight weeks in St. Gilles Prison, and despite protests from the United States and Spain, she was executed by a German firing squad at the Belgian National Shooting Range at dawn on Oct. 12, 1915.
Her execution was condemned by the international community, with rising anti-German sentiment in America and Great Britain in particular. Cavell was perceived in these countries as a courageous martyr, and was honored in 1920 with a memorial near Trafalgar Square in London.
"I have no fear nor shrinking. I have seen death so often that it is not strange or fearful to me ... I thank God for this ten weeks' quiet before the end. Life has always been hurried and full of difficulty. This time of rest has been a great mercy. They have all been very kind to me here. But this I would say, standing as I do in view of God and eternity, I realize that patriotism is not enough. I must have no hatred or bitterness towards anyone."
— Edith Cavell, on the night before her execution, as recounted by Reverend Stirling Gahan, Oct. 11, 1915.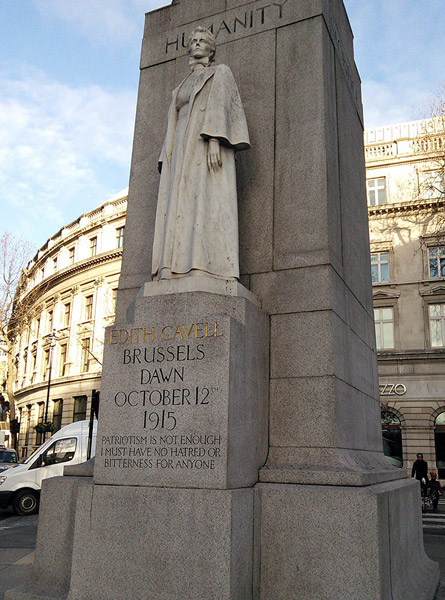 Image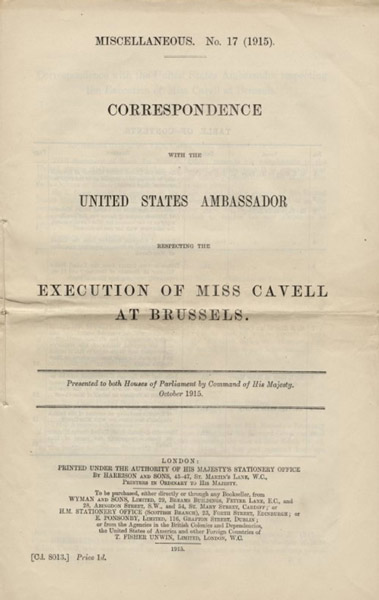 In the Collection
The Execution of Miss Cavell at Brussels is a British government publication in the Museum and Memorial's archival collection of correspondence between the U.S. ambassador in London, Walter Page, and the British Foreign Secretary, Sir Edward Grey, about the arrest, trial and execution of British nurse Edith Cavell. Within their correspondence are reports from the U.S. minister to Brussels, Brand Whitlock, and his correspondence with authorities from the German military government occupying Belgium.
Two political cartoons on Cavell by Louis Raemaekers were included the Museum and Memorial's Drawn to War exhibition which was on view from March 24 through Oct. 18, 2015.