This exhibition contains some graphic content and images of war that may not be appropriate for young children.
The Vietnam War defined a generation.
More than 40 years after its conclusion, the Vietnam War remains one of the most controversial events of the 20th century.
Exploring the pivotal struggles felt both on the war front and the home front, The Vietnam War: 1945-1975, a traveling exhibition from the New‑York Historical Society, examines how the divisive war challenged democracy, citizenship, patriotism and the foundations of American life as well as the connections between the conflict and its confounding cousin, World War I.
Graphic Guides ›
With the current COVID-19 safety guidelines, some in-gallery interactive elements such as touchscreens are unavailable.
Download these guides to explore the interactive exhibition graphics currently inaccessible.
The exhibition takes visitors on a journey spanning the duration of U.S. involvement in Indochina, using compelling storytelling, powerful photography and artifacts that tell the deeply personal stories of the men and women who were affected by the war.
The Vietnam War: 1945-1975 explores themes through fascinating objects, including a troopship berthing unit, vibrant anti-war posters, artwork by Vietnam vets, a Viet Cong bicycle, the Pentagon Papers, and historical film footage. More than 300 artifacts, photographs, artworks, documents, films, and interactive digital media help to convey the story.
An introductory gallery precedes the exhibition, which features documents and historical research from the collection of the Museum and Memorial, helping to illustrate connections between the Great War and the Vietnam War. At the Paris peace talks in 1919, a young man named Nguyễn Sinh Cung requested audiences with world leaders in an attempt to secure independence from France for what eventually became Vietnam. Denied these repeated attempts, he later forged alliances with Communist-leaning leaders and renamed himself Ho Chi Minh.
A bespectacled artillery captain from Missouri, Harry S. Truman said his later decisions were based on his World War I experiences, including providing economic and military aid to France in support of its efforts in Indochina. Brigadier General Douglas MacArthur, a young tank captain named Dwight Eisenhower, Assistant Secretary of the Navy Franklin D. Roosevelt, Colonel George C. Marshall and many others deeply involved in World War I had connections to the war in Southeast Asia a few decades later.
In conjunction with the exhibition, the Museum and Memorial offers a variety of engaging programs.
This exhibition has been organized by the New-York Historical Society with special collaboration of the National WWI Museum and Memorial. This traveling exhibition was made possible with major support from the National Endowment for the Humanities: Exploring the human endeavor, Bernard L. Schwartz and the Achelis and Bodman Foundation.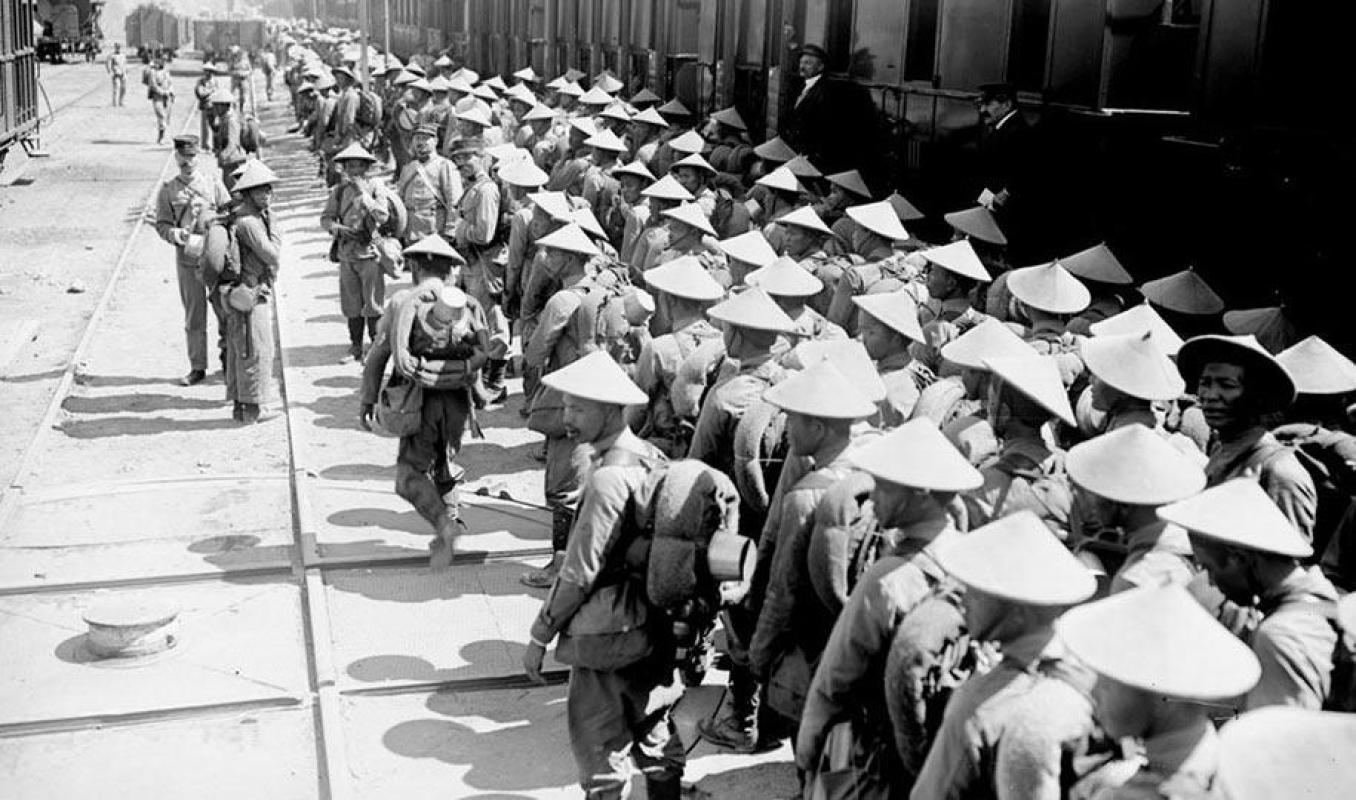 Nearly 100,000 Vietnamese (Annamese) served in France during WWI due to Vietnam being a French Colony.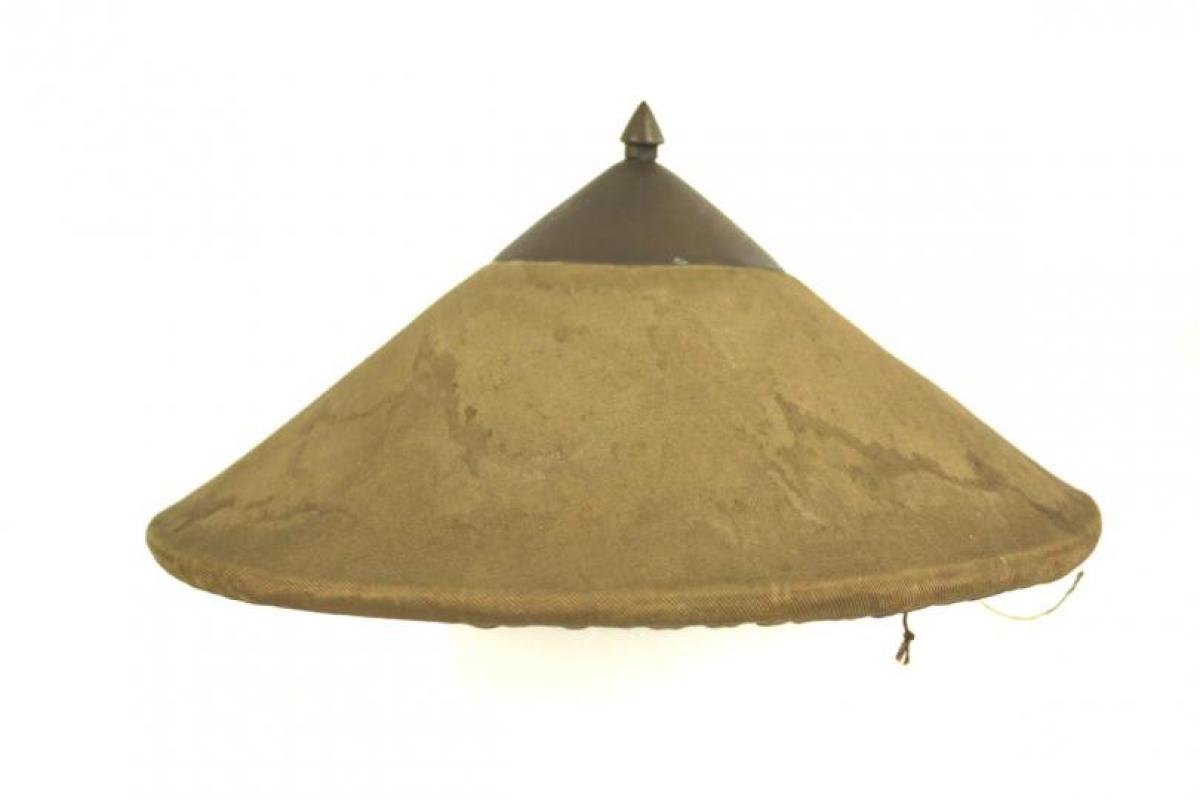 A World War I Annamese uniform hat can be seen in the Main Gallery.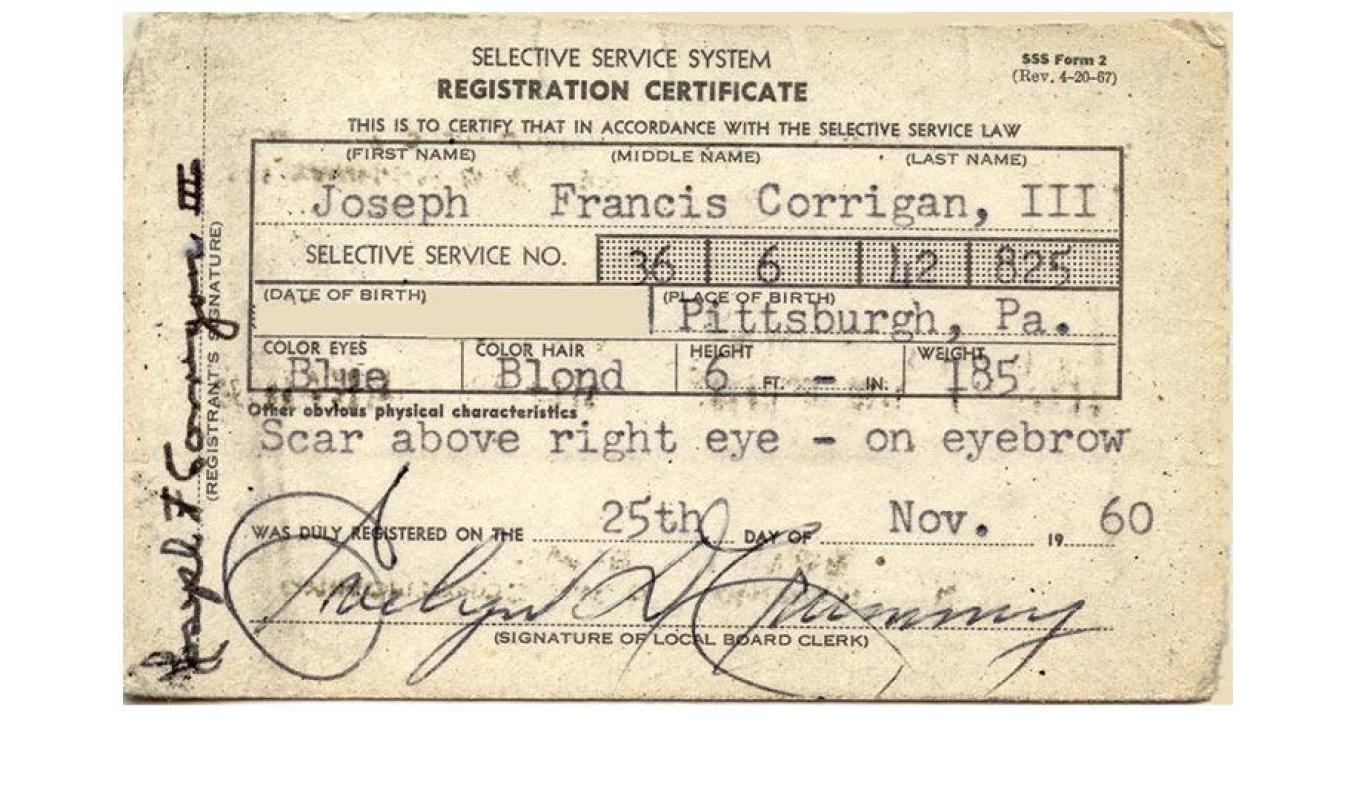 Draft card courtesy of Joseph Corrigan, C Troop, 2nd Squadron, 1st Cavalry Regiment, 4th Infantry Division, Dak To, Vietnam 1967-68.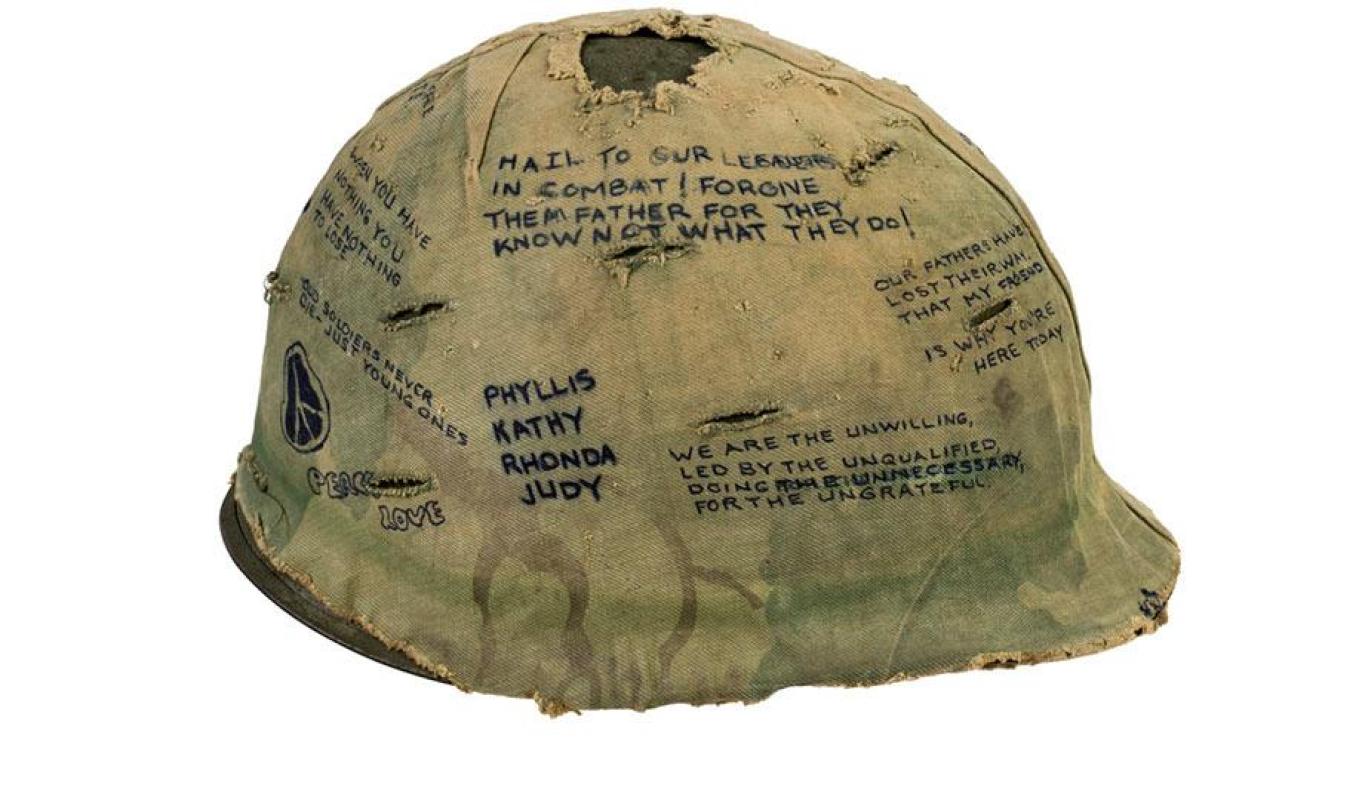 Helmet cover from Hamburger Hill courtesy of Salvador L. Gonzalez, 101st Airborne Division, 3rd Brigade, 1/506th Light Infantry, D Company, 1969.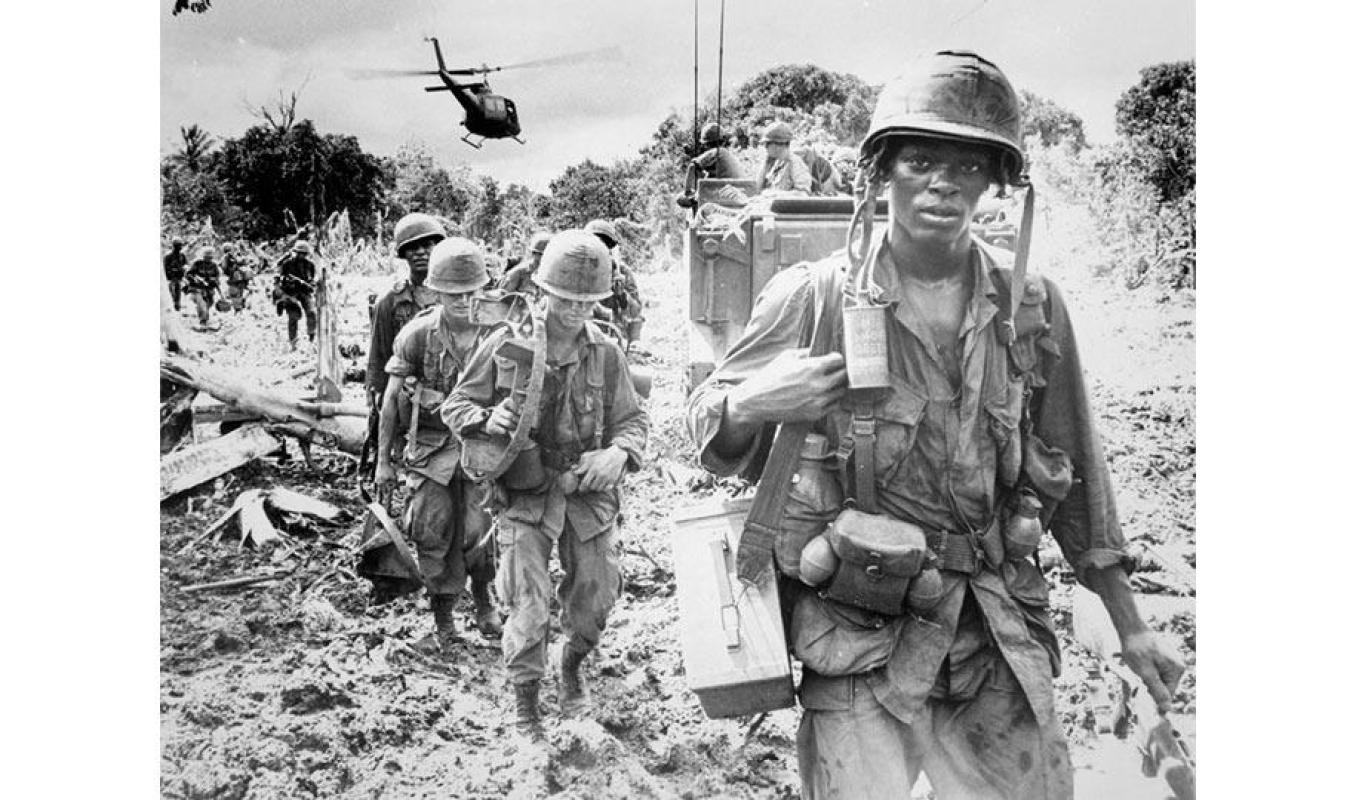 Men of the 173rd Airborne Brigade on a search and destroy patrol after receiving supplies in 1966.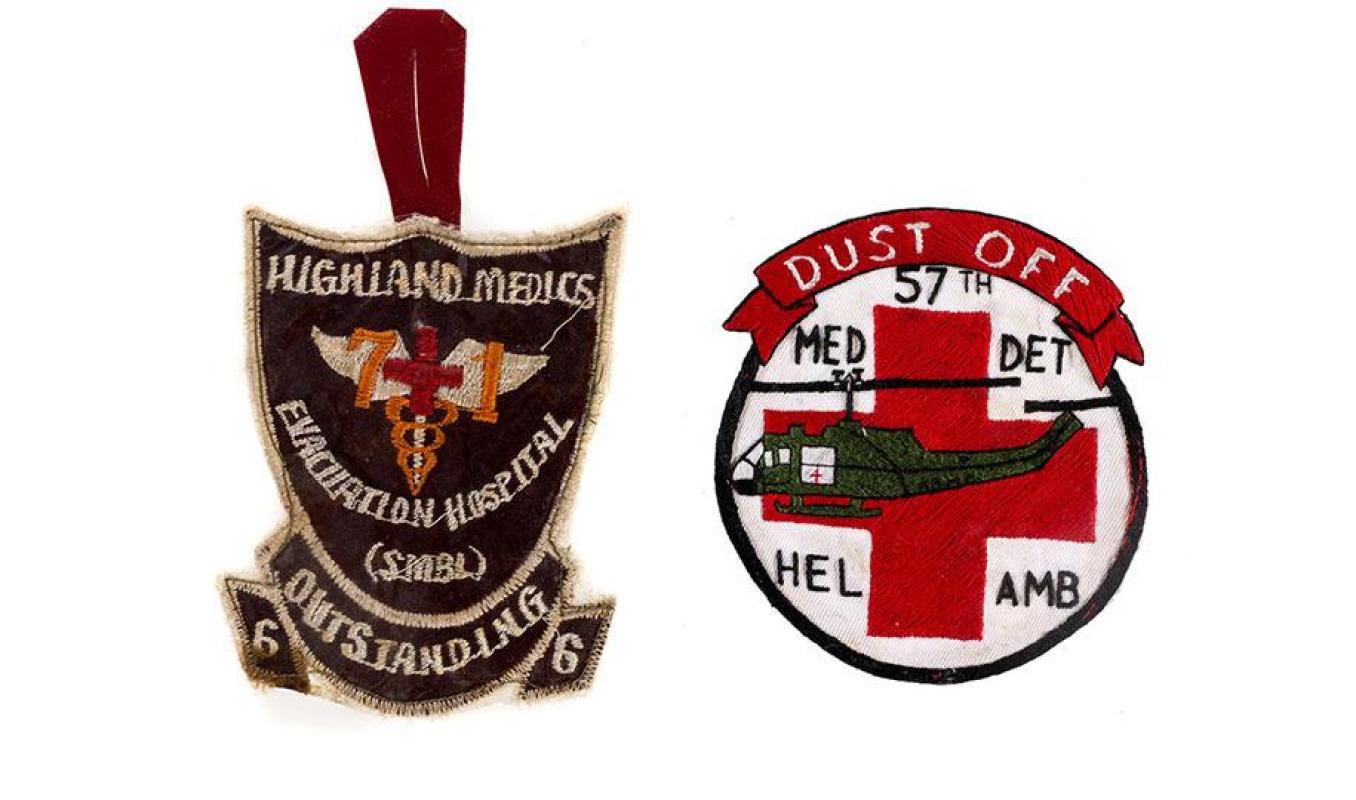 Patches from siblings Thomas and Barbara Chiminello, who served alongside one another in Vietnam. Thomas was a Medevac helicopter pilot and Barbara served as a nurse. In Oct. 1967, Tommy and his crew were killed responding to an urgent evacuation request.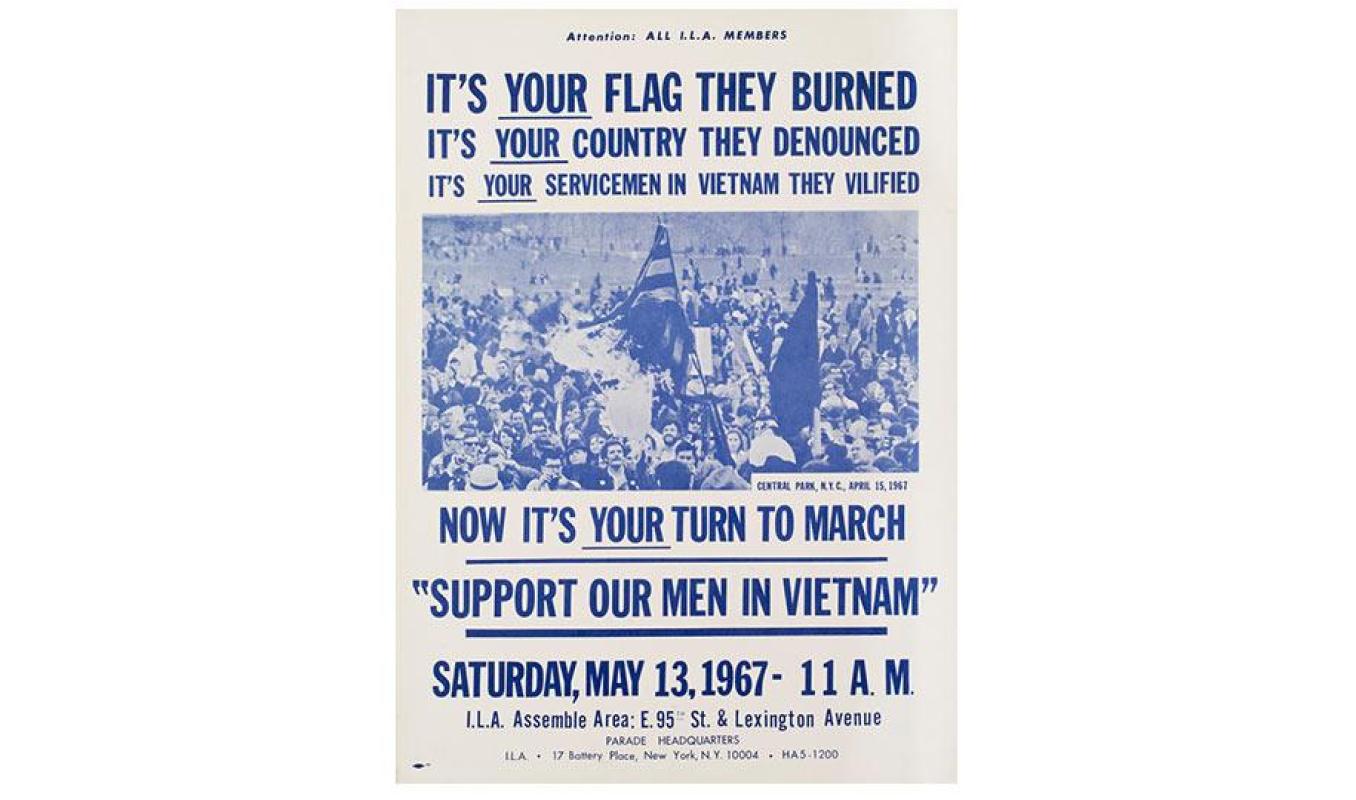 On May 13, 1967, thousands of people paraded down Fifth Avenue in New York City in support of the war.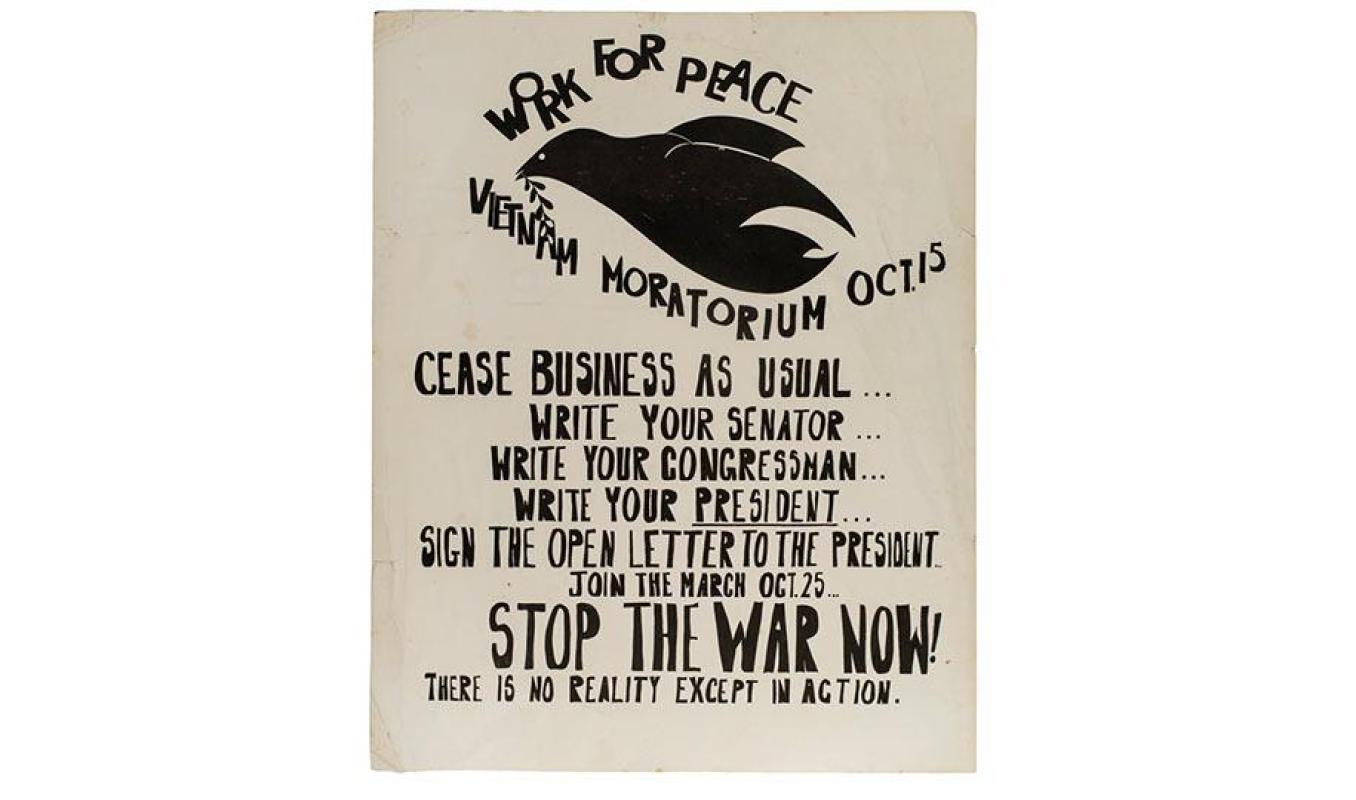 On Oct. 15, 1969, more than one million Americans participated in the Vietnam Moratorium across the nation in calling for a peaceful end to the war.